Peacekeepers urged for Somalia
By Paul Watson
January 30, 1992
The Toronto Star
MOGADISHU, Somalia -- Ali Mahdi accused his bitter rival of lying to the world by saying he will stop fighting while refusing to let international peacekeeping troops monitor any ceasefire.
"There is a big difference between what he's saying and what he's going to do," Ali Mahdi said in an interview Tuesday. "He promises many things, but he never does what he promises."
Ali Mahdi was named interim president for two years at an international conference last summer, held to fill the power vacuum following the overthrow of dictator Mohamed Siad Barre, who ruled Somalia for 22 years.
But a brutal civil war broke out Nov. 17 between Ali Mahdi and Aideed, whose guerrillas helped oust Barre.
The street battles and indiscriminate shelling in Mogadishu have destroyed most of the city and killed or wounded an estimated 20,000 people, most of them women and children.
Aideed announced a unilateral ceasefire Sunday, the anniversary of Barre's fall from power. But he repeated that Somalis must solve their differences without foreign intervention.
"Without an international peacekeeping force, it is clear there cannot be a ceasefire," Ali Mahdi replied from his headquarters in the small northern sector of Mogadishu he controls.
"Maybe we say, 'Okay. We'll stop fighting tomorrow at 8 o'clock.' Then somebody starts shooting and each side accuses the other of starting it. Who will be the judge?"
At least 250,000 refugees have fled to the desert surrounding Mogadishu and scores have already died from starvation.
The International Red Cross is trying to get emergency food supplies to the most needy.
But the agency has been forced to let Somali clan elders control distribution of the supplies because the city has collapsed into anarchy and one Red Cross worker was shot dead while trying to hand out food.
Foreign troops could restore order and help disarm the thousands of people, some no older than 9 or 10, who wildly brandish assault rifles, Ali Mahdi argued.
The United Nations has also refused to mount a relief effort until a firm ceasefire takes hold.
In Ali Mahdi's territory, Somali doctors are forced to perform surgery in abandoned villas, using the living rooms as operating theatres.
Near the front line yesterday, Aideed's men were gathering up the metal scraps of an army truck blown apart by a mortar bomb. Five guerrillas died in the blast.
© Copyright 1992. The Toronto Star
Somali guerrilla scoffs at U.N. arms embargo
Paul Watson
January 26, 1992
The Toronto Star
MOGADISHU, Somalia -- But Gen. Mohamed Farah Aideed, whose guerrillas control most of the capital city of Mogadishu, said yesterday the arms embargo will do nothing to stop the fighting.
"Generally, such action has not much effect," Aideed said in an interview as his forces' heavy artillery pounded fighters loyal to interim President Mohamed Ali Mahdi about 8 kilometres (5 miles) away.
"There are always arms sold on the black market or given as gifts. So it's very difficult to prevent the traffic of arms."
At times, it seems that everyone has a gun in Mogadishu, a once-beautiful port on the Indian Ocean.
Even little boys no older than 10 carry automatic rifles and give orders at some of the countless checkpoints in the embattled city.
Aideed's tanks fired shells as machine-gunners shot volleys of heavy-calibre bullets throughout the morning yesterday in a street battle near the ruined palace of former Somali dictator Mohammed Siad Barre.
A shell fell near a city hospital yesterday, killing or wounding 12 children and four adults, a relief worker said.
"A mother and child were killed instantly," said a doctor with Medecins sans Frontieres (Doctors Without Borders). "I saw seven children and three of them are very badly injured. One had his leg amputated and one was very badly wounded in the head."
The attack was aimed at about 40 of Ali Mahdi's guerrillas who had broken through the front lines, a local commander of Aideed's forces said.
The current fight in Mogadishu erupted Nov. 17 when Aideed moved to oust Ali Mahdi, claiming he was appointed interim president of Somalia by a conference that had no political legitimacy.
Ali Mahdi, a hotel owner, took control after several guerrilla movements, including Aideed's United Somali Congress, overthrew Siad Barre almost a year ago, 22 years after he seized power in a military coup.
Since Siad Barre's fall, Somalia has been torn apart by fighting between rival clans and guerrilla movements, or by brutal bandits who ambush and murder simply to get food or money.
The senseless killing has even targeted relief workers, the only foreigners who haven't given up and fled for their lives.
At least three international Red Cross workers have been murdered in the last month and most of the Somalis wounded or killed in the fighting are women and children.
Ali Mahdi, who controls only a small portion of Mogadishu pressed up against the seafront, says he would welcome a ceasefire and international peacekeeping troops.
But Aideed says foreign intervention will simply make matters worse and insists his forces could disarm the various factions if Ali Mahdi would only surrender.
U.N. Under-Secretary James Jonah said in a British radio interview Thursday that he believed Aideed was softening his approach and was more willing to accept a ceasefire.
But Aideed crushed any hope that he was ready to back down by repeating yesterday that he's in control and doesn't need outside help to stop the civil war.
"I don't know where Mr. Jonah got the explanation he did," Aideed said. "My position is the same. I am for peace. I never said I was not for peace."
But Aideed refuses to even discuss peace with Ali Mahdi, who Aideed says will be put on trial for crimes against the people if he's captured alive.
There is no electricity or water in most of Mogadishu and some 250,000 people have fled to the desert on the city's outskirts for safety.
Many are going hungry because they can't afford to buy the food that suddenly appeared in Mogadishu's market last week after looters stole about 7,000 tonnes of grain and other food shipped in by the aid agency CARE.
© Copyright (c) 1992 The Toronto Star
Civilians the main losers in Somalia's ravaged capital
JEAN-PIERRE CAMPAGNE
January 23, 1992
MOGADISHU, Jan 22 (AFP) - The only thing left intact in General Mohamed Farah Aidid's office after the shell came through the ceiling was the bright blue globe map.
But that was an age ago, on November 15. Since that early fighting between the general's forces and those of interim Somali President Ali Mahdi Mohamed, the population of this white-walled city has been living in hell.
Gen. Aidid has long fled to other premises, leaving his globe behind, but his forces still hold the neighbourhood, pursuing an anarchic war whose casualties are almost exclusively the civilians caught in the middle.
The local commander of the Aidid forces in the city-centre region looks the part, sprawled in an armchair in the shattered office, sporting dark glasses and a revolver tucked into his belt.
He refuses to give his name, but agrees to take a visiting journalist on a trip to the nearby front lines.
The Toyota pick-up has a cannon mounted on the back, and is packed with soldiers clutching automatic weapons. Its driver appears to derive kudos from the fact that he bears the same name -- Aidid -- as his leader.
Initially he hurtles through the streets, paying scant attention to the odd civilians, whom the combattants on both sides appear to consider disposable.
As the vehicle approaches the front lines, the driver begins stopping at every intersection between the pockmarked houses, fearful of enemy snipers. Aidid supporters posted at the street corners tell him if it's safe to go on.
Now the vehicle has to weave its way around dead donkeys, spent artillery shells and collapsed telegraph poles.
"This area is no longer very safe," the commanding officer admits.
© (Copyright 1992)
Red Cross: First Starvation Deaths Among
Mogadishu's Displaced
DIDRIKKE SCHANCHE
January 17, 1992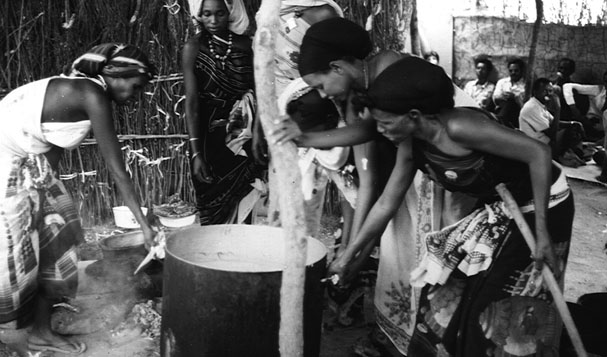 NAIROBI, Kenya (AP) - The first starvation deaths have been reported in camps set up to aid refugees from the brutal clan fighting in Somalia's capital, the Red Cross said Friday.
Meanwhile, the humanitarian organization said it will try to unload 1,600 tons of food, fuel and medical supplies for the refugees Saturday at two towns north of Mogadishu, the capital.
The fighting erupted Nov. 17 between rival clans within the ruling party, and has prevented previous attempts to unload supplies in Mogadishu.
The United Nations estimates at least 20,000 people have been killed and wounded. The victims have been mostly women and children hit by stray fire.
"We don't have any figures, but the first cases of death by malnutrition have been reported in camps south of Mogadishu," said Gregoire Tavernier, a spokesman with the International Committee of the Red Cross' office in Nairobi.
Food and clean water are in short supply and the general nutritional situation is "very bad" in the camps, he said.
The hundreds of thousands of people who fled the fighting are living in makeshift tents, under trees and in abandoned buildings in the scrub land surrounding Mogadishu, mainly to its north and south.
Tavernier said that on Saturday his group will try to unload two boatloads of food, fuel and medical supplies at Merca and Adali, about 75 miles south and 95 miles north of Mogadishu respectively.
Tavernier said the boats each carry 800 tons of supplies, including enough food to provide half-rations for the displaced for about a month. He said that if the operation is successful, the Red Cross would try to ship in fresh supplies every month.
The battle in Somalia pits forces loyal to President Ali Mahdi Mohamed against those of Gen. Mohamed Farrah Aidid, chairman of the United Somali Congress.
Both men belong to the ruling congress, which is controlled by the Hawiiye clan of central Somalia. But they come from different factions of the clan and have long been rivals.
The congress drove out former President Mohamed Siad Barre, who fled Somalia last January, then made Ali Mahdi president. However, it failed to consolidate its control over the country, which has dissolved into rival fiefdoms ruled by warring clan-based militias.
© Copyright 1992. The Associated Press. All Rights Reserved.
The Murusade clan is now fighting with interim President Ali Mahdi Mohamed's Abgal guerrillas against the Habr Gedir forces
January 16, 1992
The Murusade clan is now fighting with interim President Ali Mahdi Mohamed's Abgal guerrillas against the Habr Gedir forces of the president's rival, General Mohamed Farrah Aidid.
A Red Cross official was shot dead in the southern city of Kismayo this week, the third relief worker to be killed in the east African country in the past month.
The United Nations has pulled out of Mogadishu, leaving the Red Cross, the French medical charity Medecins Sans Frontieres, the British-based Save the Children Fund and the International Medical Corps as the main relief agencies still operating.
On Wednesday MSF and the ICRC said they would stay in Mogadishu although the city's hospitals have recently been hit by shells.
The hungry city is ruled by bands of doped-up youths in sunglasses and turbans who cruise the debris-littered streets in "Mad Max" cars -- looted jeeps and pick-up trucks bristling with Kalashnikovs, mortars and "Stalin organs," rocket launchers cannibalised from warplanes.
By mid-afternoon most of the fighters, who chew a narcotic leaf called "qat", seem semi-delirious.
In the year since Siad Barre was ousted, most of Somalia has disintegrated into tiny clan fiefdoms. The north-west declared independence in May as the Somaliland Republic and managed to remain relatively peaceful until fighting between clan groups broke out recently, aid workers said.
© Copyright 1992
Aidid combatants seize Mogadishu port
JEAN-PIERRE CAMPAGNE
17 January 1992
MOGADISHU, Jan 17 (AFP) - Supporters of General Mohamed Farah Aidid have taken control of the port of Mogadishu and seized a fuel depot in the area, as fighting between rival factions eased in the war-shattered Somali capital Friday.
The port was held by fighters of the Ashamud clan until now. Aidid supporters said most Ashamuds defected to join his ranks.
Aidid, a member of the Hebr Gedir clan, last year launched a bloody bid to topple interim President Ali Madhi Mohamed of the rival Abgal clan. Tens of thousands are said to have been wounded or killed in the fighting around Mogadishu in recent weeks.
Aidid supporters told Agence France-Presse that they took the port with the help of another clan, the Hawadle, Thursday.
Elders of the Abgal, Hebr Gedir and Murusade clans met Friday to find a peaceful solution to the fighting, but shots continued to be heard at nightfall, suggesting that a ceasefire was not yet at hand.
But as the battles with artillery and automatic weapons lessened, fewer wounded were being taken to hospitals than on previous days.
"This is the first Friday I have not worked since I started here," a nurse of the relief organization Medecins Sans frontieres who arrived shortly after the savage fighting broke out two months ago told AFP.
However it was impossible to drive around the city without an armed escort, and all vehicles on the move carry mounted machineguns.
Water has become a scarce in this city and people, mostly women and children, wait for hours for drinking water. Non-governmental relief organizations have also reduced their staff because of the insecurity.
One body, International Medical Corp.(IMC), has just sent seven staff members to Nairobi after three people were wounded Thursday when a grenade exploded at the Dirfer hospital where IMC operates.
© Copyright 1992