Introduction
My associates of the Roobdoon Forum and I welcome any legal attempts to explore the natural resources of our country, so long as it has the blessings of the Somali Central Authority (TFG). Skillful exploitation of our natural resources for the betterment of our people is an inevitable and necessary concomitant to our survival as a nation-state.
One of the major battles that will be fought on the Somali Transitional Federal Government (TFG) seat in Baidoa, these coming weeks, will be the issue of "who has the right/or power to negotiate the sale of mineral rights to foreign firms". In other words, can a regional administration be able to secure the exclusive mineral rights over a large junk of Somali territory to a small mining company based in Perth, Australia?
As early as mid 2005, Puntland regional administration has already taken the position that, given sufficient justifications, it found a partner and may begin soon exploration work in Puntland. Puntland officials were so little concerned that the permit might be denied (by the TFG) that they began negotiating a mining exploration company from Australia – Range Resources.
However, in the last few weeks, it seems that complication were soon to arise. For one thing, a proposed new hydrocarbons law will soon be reviewed and debated by the Somali Parliament. If this new bill is passed, the new law will nullify any exploration rights that have been agreed after 1990. For another thing, if the new bill approved, only Somali Petroleum Corp. will be able to invite foreign firms to own any stake in Somalia.
Finally, to reflect the current developments in Puntland, the Forum posts excerpts of news-coverage on the issue of concession agreements between Puntland and Range Resources Ltd. These agreements have taken the center stage of Adde Muse's reign in Puntland.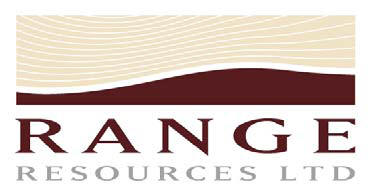 1 December 2005
Manager of Company Announcements
Australian Stock Exchange Limited
Level 6, 20 Bridge Street
SYDNEY NSW 2000
By E-Lodgement
PUNTLAND OIL AND GAS POTENTIAL
Following the Company's recent annual general meeting and various shareholder requests, set out in this announcement is a summary of the oil and gas potential of Puntland which provides further details on the Company's Puntland project.
As previously announced, Range Resources Ltd' (Range) has entered into an agreement that gives it a 50.1% controlling interest in the exclusive exploration and development rights to the Northern Somalian State of Puntland.
Puntland is believed to have all the geological requirements to become a commercial oil-producing region. Somalia, and in particular Puntland remains one of the last under-explored countries that has a high potential for considerable reserves of hydrocarbons.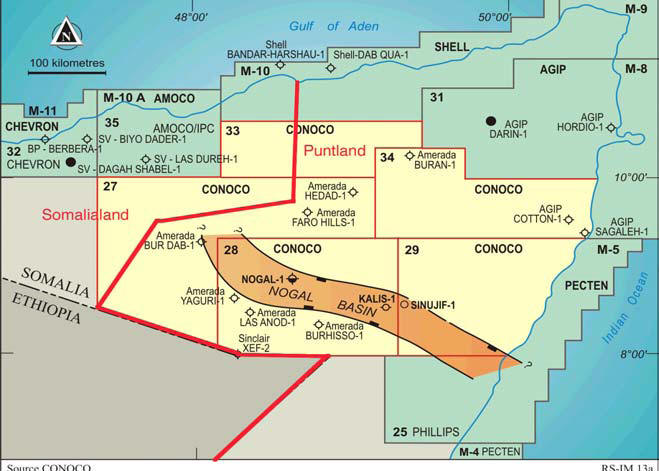 Previous Oil and Gas Concessions
The earliest indication of oil in Somalia was a large oil seep southeast of Berbera and several other seeps in various locations within the country. However, early exploration concentrated on an anticlinal structural approach since this had met with success in the Arabian peninsula it took the oil companies a number of years to abandon this approach in Somalia. There is no evidence of large scale compressive folding in Somalia and the anticlines in the north of the country appear to be associated with the Miocene separation of Africa and Arabia and hence post-Mesozoic and early Tertiary oil and gas accumulations. Therefore, hydrocarbon accumulations must be sought in older structures and stratagraphic traps.
Somalia had been previously identified to possess all the requirements for a petroleum province. Hydrocarbons had been generated in the Jurassic, Cretaceous and Tertiary rocks and has a sedimentary column thickening to 8830m. Many porous reservoirs are known both in carbonate and clastic rocks and various types of trapsare believed to be present. This view was further reinforced in the mid 1980's following the successful exploration efforts of Hunt Oil Corp across the Gulf of Aden in Yemen. There Hunt discovered an estimated 1 billion barrel oil reserves that their geologists believed were part of a great underground rift or valley that arced into and across northern Somalia.
Several major oil companies obtained exploration concessions and conducted considerable exploration and drilling over large parts of the State both onshore and offshore during the late 1980's and early 90's. These companies included AGIP, Shell (Pecten), Conoco, Phillips and Amoco
Range was able to view and photograph some fragmentary data (mainly old maps) relating to previous exploration conducted up until 1991 that was recovered by Puntland public servants. This data package undoubtedly represents a very small percentage of the data compiled by the company ('Conoco') during their work in Somalia. Much data relating to mineral and oil exploration has been destroyed and original copies of exploration reports probably reside with the previous leaseholders.
EXPLORATION DATABASE
The diagram below is redrafted from an old map compiled in 1991 showing the locations of various structural features thought to be parts of a Rift Valley complex with the Nogal Basin being a prominent seismically identified element.
The map also shows the 1991 commitments. It is believed that in excess of 20,000 line km of seismic work has been undertaken within the previous Conoco concession area alone. It is clear that the total amount of exploration work undertaken by all parties is significantly greater. Subsequent to the agreement with Consort, Range has been made aware of a geophysical database that purports to cover all the previous geophysical work and exploration in the region. The Company is currently in negotiation to acquire this database which would take in excess of US $100 M of exploration effort to replicate.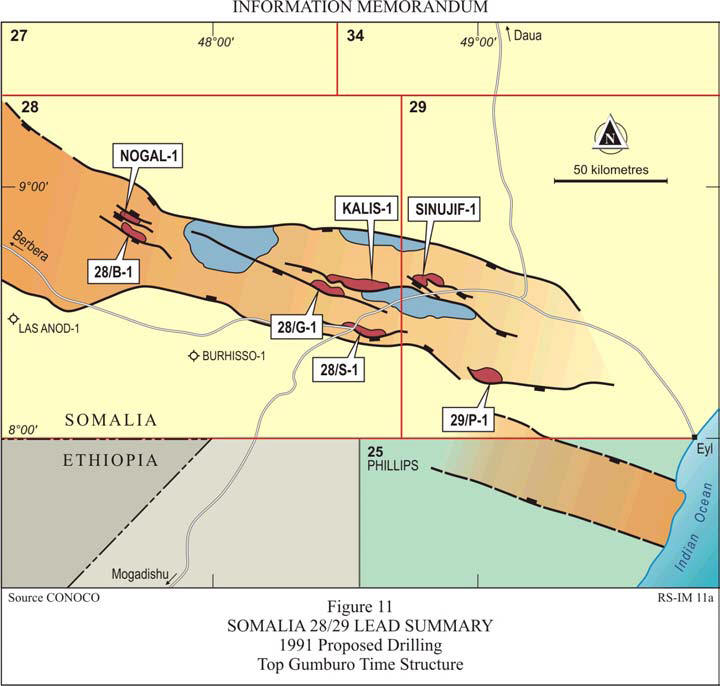 The most important discovery from this large amount of seismic work is that it revealed a complex array of buried rift valleys extending from Lease 27 (Somaliland) into 28 and 25. The data that has been obtained shows that majority of the work focussed on the NOGAL BASIN. Several wells had been drilled in the basin including Nogal – 1 Kalis – 1 and possibly Sinujif – 1. Nogal-1 is shown as an oil show and Kailis-1 possibly not tested at that stage.
The most compelling information on a potentially large source of oil reserves came from a series of A4 sheets and a large summary sheet presumably prepared for a presentation to senior Conoco management to justify the drilling of a well at a cost of US $8.3 million on a Prospect delineated as 28-B in the Nogal Basin.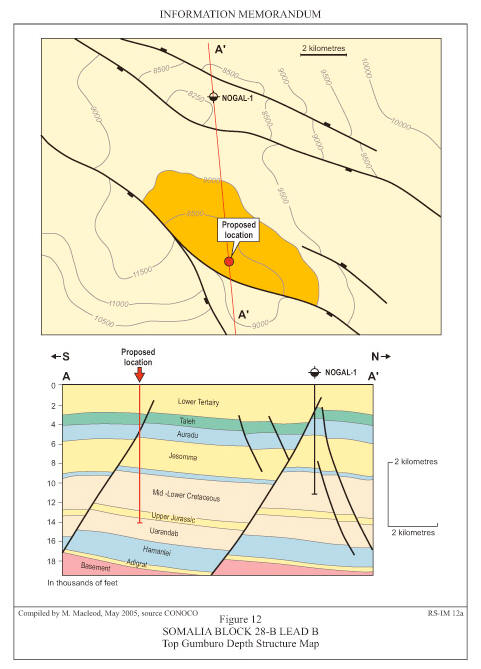 This large 'presentation' sheet prepared for the 28-B prospect included in summary and graphical form information that had been analysed and determined by Conoco geologists from their exploration efforts. It shows that they had very clearly identified stratagraphic traps in the older formations. In particular, they identified a possible primary reservoir in Upper Jurassic Gabredarre formation and a potential secondary reservoir in the Upper Creteceous Jesomma sandstone formation.
The sheet clearly identified the proposed well location and the data also included the geoseismic sections, seismic line sections, prognosed stratigraphy, source kitchen, burial and maturation history, and potential seal trap and reservoir estimates.
In particular, the reservoir estimates indicated that the targeted structures were very significant in size and were comparable to sandstones in the Alif oil field discovered in Yemen by Hunt Oil Corp.
The targeted reserve estimates previously compiled by Conco gave a minimum, maximum and most likely size value of the primary and secondary reservoir targets and a recoverable estimate. An original photograph of these estimates or potential 'Reserve Summary' is shown below and puts the most likely reserve estimate for the potential reservoirs at over 800 million barrels each with over 500 million barrels estimated to be recoverable at that time.
Potential Reserve Targets from 1991 source
documentation
The Company looks forward to updating shareholders as it continues its negotiations with respect to farming out several of the oil and gas concession areas as summarised above.
Yours Faithfully
Mike Povey
Executive Chairman