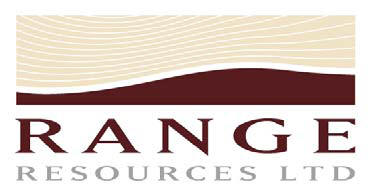 19 April 2006
Companies Announcement Office
Australian Stock Exchange Limited
20 Bond Street
SYDNEY NSW 2000
By E-Lodgement
FURTHER GOVERNMENT SUPPORT FOR RANGE IN PUNTLAND Highlights:
· Range formally cements its relationship with the Government of Puntland with a revised Contract of Work entered into.
· Range delegation and risk assessment team complete safe and successful visit to Puntland with positive support from the Government and key stakeholders in the region.
· Letter of Intent entered into with oil major – details to be released Friday, 21 April.
· Mineral exploration program progressing well with key update scheduled for last week of April.
Revised Contract of Work
The Company is pleased to announce that it has entered into a revised contract of work with the Government of Puntland and Consort Private Limited. Whilst the contract does not change Range's 50.1% interest in the project as previously announced, the revised contract does allow for more certainty with regards to third parties having secure tenure in respect of farm in and joint venture type arrangements for both oil and gas and minerals in respect of specific on and off shore land areas. Range is also expressly named as the operator under the Contract of Works to manage the exploration and development program of all minerals and hydrocarbons in Puntland. The signing of the revised contract of work took place at a formal ceremony in Boosaaso (the regional capital of Puntland) attended by his Excellency, President Hersi and key ministers and senior government personnel. Range was represented at the ceremony by Executive Chairman, Mike Povey in addition to other members of the Range team including the Company's supporting broker and head of risk assessment.
Extract's from His Excellency's, President Hersi speech:
It is great pleasure for us today to let the people of Puntland know that the government committee and our guests from Range Resources have talked, discussed and agreed on how to do the work pertaining to exploring and exploiting the natural resources of this region. Range Resources have been doing substantial traveling in the region and at the same time did a lot of research. During their travels, they have seen that the region is stable and safe to do business and the things that happened are common in most parts of the world. We hope that we take advantage of our natural recourses and we also hope that Range Resources fulfill its contractual duties. People of Puntland are ready and are rallying behind the company and today we have discussed that most of the work will start soon and as a result of that, more employment will be generated. We request from Range Resources to assist us in the development of this region in terms of education, health and basic necessities such as water.
To conclude, I will ask the people of Puntland to welcome and embrace our guests that want to help us to move forward to the future."
Executive Chairman, Mike Povey commented at the ceremony:
"Range's primary objective is to assess the potential of the country for oil/gas and minerals as quickly as possible. We have made great strides in our work already and will be able to provide the Government with a geological mapping and exploration database system that will be one of the best if not the best in Africa. While that is a good thing, the main objectives are to ensure the material resources are identified and that we can show that Puntland is a good and safe place in which to work. In that way, Range can be a 'pathfinder' for what we hope will be a number of international companies that will explore and develop the resources and help improve the economic conditions in the country…. . I would like to thank everybody for the excellent hospitality we have received during our visit and the faith that His Excellency, the President and his Ministers have shown in Range."
Risk Assessment
As part of the visit, Range was accompanied by a risk assessment team engaged to provide Range and its consultants with an assessment of the security arrangements in Puntland and evaluate recent conflict claims made by certain websites relating to activities in Somalia. Whilst a formal report is still in the process of completion, initial feedback is that the security team were satisfied with the risk associated with operating in Puntland and that recent reports were, on the whole, either, exaggerated or unfounded. Head of risk assessment, Joe Obeid commented at the formal signing ceremony:
"I was appointed by Range as a Secretary Consultant to the Company. We have a team of experienced security people from Australia, we came here with a perceived idea of Puntland and Somalia but after 3-4 days we are going back with a completely different idea. You hear so many stories about the situation in Puntland and to come extent theses stories are exaggerated. We were welcomed by the people and Government and felt very comfortable with our movements around Puntland. On behalf of the security team we thank you for your hospitality".
Range looks forward to updating shareholders on the letter of intent entered into and key activities in Puntland. Yours sincerely
MIKE POVEY
Executive Chairman
No one killed in Puntland operations, Range insists
Jamie Freed
The Sydney Morning Herald
April 18, 2006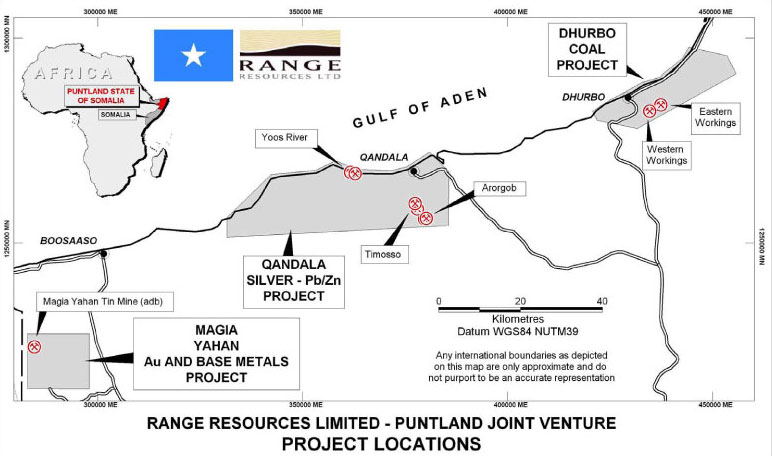 Things are going well or terribly - it all depends on who you ask. Jamie Freed reports.
THE news out of Puntland, a semi-autonomous state of Somalia, has not been good since Range Resources began exploring for minerals and petroleum in late February.
If Somali sources are to be believed, about 10 people have died in a clash between soldiers loyal to Puntland's president and a regional clan opposed to the Australian company's exploration project.
Those same soldiers have been escorting Range geologists and workers around the mini-state. But according to Range's executive chairman, Mike Povey, no one has died as a result of his company's exploration in the state.
"The Government always makes sure a company is protected," Povey says. "They use their troops ... [which] would be armed."
Range pays the Government $US200,000 ($274,725) a month as part of its exploration deal. But Povey says that, to his knowledge, the biggest incident was an attempted robbery of a supply truck.
"Everything that you've read has been highly exaggerated," he says.
In Range's case, like many other mining companies with disputed sites in far-flung corners of the world, it is very difficult for investors to verify the situation on the ground.
Instead, it's often the word of the company versus the word of the locals or non-governmental organisations.
In Range's case, a lot of ink has been shed on both sides of the Indian Ocean since it signed a landmark deal in October, giving it the right to 50.1 per cent of all of the minerals and petroleum in Puntland. It was a company-making deal for Range and immediately attracted attention from a large group of investors - many of them day traders - in Australia.
After all, Range claimed petroleum exploration by US oil company Conoco and others had shown a lot of potential before Somalia's civil war necessitated a hasty exit in 1991.
Range shares shot up 70 per cent in the days after the deal was announced. Although there have been no commercial oil finds in the past, Range believes the under-explored area could contain billions of barrels of oil - and its executives portrayed the deal as a major coup for such a tiny company.
But at the same time, the agreement had a lot of Puntlanders - and even the central government of Somalia - questioning how a tiny Australian company managed to snag exclusive exploration rights to 212,500 square kilometres of land.
Soon after the deal was announced, the Somali Prime Minister, Ali Muhammad Gedi, sent a letter to the Australian Stock Exchange questioning its validity. He argued that only the transitional Federal Government of Somalia had the right to sign away mineral rights. Although Puntland is semi-autonomous, it is still recognised internationally as a part of Somalia - including by the Australian Government.
Within weeks, the spat with the Somali Government was somehow settled and Gedi wrote Range a letter to that effect which was soon posted on the company's website.
And by February, Range was all set to begin its ambitious exploration program. Povey relocated from Perth to Dubai to be closer to Puntland.
The company cut a deal with Middle East Petroleum Services giving it 15 per cent of the oil rights in exchange for access to a team of petroleum experts and funding for wells. MEPS is run by Tasmania's Ken Fellowes, who previously headed high-flying but ultimately failed listed oil explorer Coplex in the late 1990s.
Range also hired an Australian geologist with African experience, Geoff Blackburn, OAM, to lead the minerals exploration team.
Before Range sent its teams in, the Government of the neighbouring nation of Somaliland put out a harsh statement, warning that if the company's teams crossed into disputed border territory it could "jeopardise the peace and stability of the entire Horn of Africa".
Despite that, the initial reports out of Puntland seemed promising. In a release to the ASX in early March, Range noted it had visited sites with either old mines or the potential for new ones filled with coal, lead, silver and gold.
And although the Department of Foreign Affairs and Trade warns against all travel to Puntland and other parts of Somalia and no embassy is maintained by the Australian, American or British governments, Range reported its team had "no difficulty" with access, security or logistics.
"There is not, from a company perspective, a 'violent' border dispute between Puntland and Somaliland," the statement added.
But within a few weeks of that announcement, Somali news websites started to report on a violent dispute - not between Puntland and Somaliland, but between Puntland forces protecting Range operations and a clan living on the border.
On March 29, Reuters said at least six people had died in a mortar battle in the Majayahan village near the Puntland-Somaliland border. The fight was apparently between Puntland security forces and the Warsangeli clan, which has ties to some Somaliland ministers and is known to oppose Range's right to explore in Puntland.
On April 3, the Puntland news website Garowe Online reported that three more people had died when clan militias attacked Puntland security forces protecting a team of Range scientists in the same zinc-rich area.
And on April 9, Garowe Online reported that at least one member of the Puntland militia was killed and five others wounded when a landmine hit a truck near the same village. "Reliable sources" told the website the Warsangeli clan had mined the road as part of its strategy to keep the Puntland militia and Range out of the region.
Range's Povey says it is possible there was an incident with a landmine, although he doesn't have any direct knowledge of it. The Puntland Government warned his exploration team that landmines were a problem in some areas.
But Povey says he wasn't aware of any local infighting. After a site visit last week, he claims Puntland is a great environment for exploration. Range took a team of unarmed risk assessment professionals from Australia along for the ride to produce an independent report on the security situation which has not yet been released.
"We were greeted very warmly," Povey says. "There was no evidence of trouble."
As part of Range's exploration agreement, it is paying the Government $US200,000 a month and has offered to help build an airport in the state's capital, Garowe. "We believe it is a place where it is safe to invest," Povey says. "We've put our money where our mouth is."
Short of ignoring DFAT's travel advisory and visiting the Puntland region, independent confirmation of the supposed battles at Majayahan is difficult to obtain.
But the executive director of Puntland State University in Gorawe, Muhammad Sheikh Hamid, told the Herald that, as far as he knew, at least five people had died in the conflict over mineral rights.
"I think this tribe wanted to get some benefit from the agreement," he said in an email.
The dean of Puntland State University, Abdi Samad Ibrahim Jama, agrees there were some skirmishes between clan and militia forces but adds "the problem is calm now after finalising a proper solution with the local people by the Puntland authorities".
Mohammed Elmi, a resident of the regional capital of Bosasso, Puntland, wrote to a Somali website asking for the Range agreement to be reassessed by the Puntland Government to end the conflict.
"Both forces are mobilising their militias and preparing for war. Apparently it has to do with the team of experts from Range in the area," he said in an email to the Herald earlier this month. "The Governor has been accused of being a corrupt leader who want[s] forcefully to exploit the resources of a country under the customary jurisdiction of the clan that reside there.
"The Warsangeli clan, the clan that resides in the area, does not object to the exploration and extraction of minerals but they insist everything be done with their approval."
Povey toured the area in dispute - about 40 kilometres from Bosasso - as part of his visit to Puntland last week.
He says there are no villages or local inhabitants in the area - simply a mining camp that Bulgarians abandoned about 30 years ago. "It's a hilly, deserted region," he says.
Povey believes as few as 20 people in Puntland actually oppose the Range agreement. "There will always be a small minority that might object for various reasons," he says. "Their motives are often not progress and sometimes just plain money."
Range is expected to release more details of its recent exploration program - perhaps including an update on the political situation - to the ASX today, ending a trading halt it called last Wednesday.
© 2006 Copyright John Fairfax Holdings Limited. www.smh.com.au Not available for re-distribution.
Clashes between rival Somali regions kill six
March 29, 2006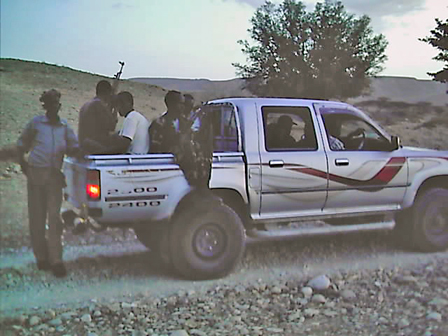 HARGESIA, Somalia, March 29 (Reuters) - New fighting between Puntland security forces and villagers near the disputed border in rival enclave Somaliland has killed at least six people, a Somaliland minister said on Wednesday.
Mohamed Sheikh Mohamoud, Somaliland's minister of youth and sports, said five "attacking forces" from Puntland and one person from the local Warsangeli clan died on Tuesday.
"Puntland forces who attacked Majayahan border village for the third time within two weeks have exchanged mortar fire with the inhabitants of Majayahan village," he said. Firing was continuing on Wednesday but no new casualties were reported.
Somaliland, an enclave on the Gulf of Aden, declared independence from Somalia in 1991 and has since enjoyed relative peace. But it has fought sporadic clashes with Puntland over border areas claimed by Puntland's leaders as theirs on the basis of ethnicity.
The latest fighting pitted the Majeerten clan, which makes up most of Puntland's administration, against the Warsangeli clan to which the Somaliland minister belongs.
The Warsangeli live on both sides of the border in an area rich in zinc and other minerals.
© 2006 Reuters Limited
Demonstration Against Puntland President in Lasanod
February 24, 2006
Las-Anod, Feb 24, 2006 (The Republican/All Africa Global Media) -- President of the Regional Administration of Puntland, Mr. Addo Muse who made a lightening visit to LasAnod on Thursday met a strong demonstration that opposed his visit to the town.
According to eyewitnesses and our area correspondent the demonstrators burned tyres and were carrying placards opposing his visit.
Enforeced militia loyal to the regional administration forced the demonstrators to disperse.
Speaking a lunch given by Puntland supporters, Mr. Adda Muse said, "We are here today (Thursday) to pay tribute to the late Garad Abdiqani garad Jama (who was buried last Friday). We have signed agreements with fuel and mineral companies, who will come to exploit these resources. I urge the people of LasAnod to preserve stability."
Mr. Adda left for Garowe after lunch without meeting traditional leaders of Sool region or its intellectuals. This is the second time Mr. Adda pays a short visit to LasAnod, since he was nominated as the head of Puntland.
Senior Somaliland government and parliament officials and traditional leaders attended Garad Abdiqani's funeral last Friday. The Solo participant from the Puntland administration was Mr. Habsade, its interior minister and close relative of the Garad.
© 2006 AllAfrica, All Rights Reserved
Miner claims it's all peace in Land of Punt
Jamie Freed
The Sydney Morning Herald
March 06, 2006
RANGE Resources has attempted to quell investor concerns about its latest exploration play, claiming Somalia's semi-autonomous state of Puntland contains a wealth of minerals and few security problems.
The Australian-listed explorer took issue with a story in the Herald last week that referred to a border skirmish between Puntland and the neighbouring state of Somaliland.
"There is not, from a company perspective, a 'violent' border dispute between Puntland and Somaliland," Range told the stock exchange.
The company also denied sending teams into the disputed area, contradicting statements company secretary Peter Landau made to the Herald last week.
Neither Mr Landau nor executive directors Jim Marinis and Mike Povey could be reached for comment on Friday.
In its statement to the stock exchange, Range said its exploration teams had confirmed that Puntland contained gold, coal, lead and silver prospects based on visits to former mines.
Range has the right to 50.1 per cent of all mineral and petroleum exploration and development in Puntland, and is looking for joint venture partners to help develop its projects.
Range signed the deal with Puntland's government last year and insists the state and neighbouring Somaliland have been "secure and stable for some years with democratic elections being utilised to elect parliamentary representatives".
But a report from the BBC last week suggested Puntland was not immune to violence or the threat of a coup.
The BBC website said gunmen loyal to Puntland's planning minister entered the parliament building before being forced out by security forces.
Two militiamen and a civilian were killed.
The Department of Foreign Affairs and Trade has warned against all travel to Somalia and does not maintain an embassy in the country.
Asked whether the same warning applied to the state of Puntland, a DFAT spokeswoman said: "The travel advice for Somalia reflects our best knowledge over the safety and security of the country overall.
"If we had advice the threat differed in specific regions, that would be reflected in the travel advisory."
Regions are not differentiated in DFAT's travel advisory for Somalia.
DFAT could not comment on whether an agreement with the Puntland government would be considered binding, because the state has not declared independence from Somalia's central government.
Range rose 0.1c to 4.2c on Friday.
© 2006 Copyright John Fairfax Holdings Limited. www.smh.com.au Not available for re-distribution.