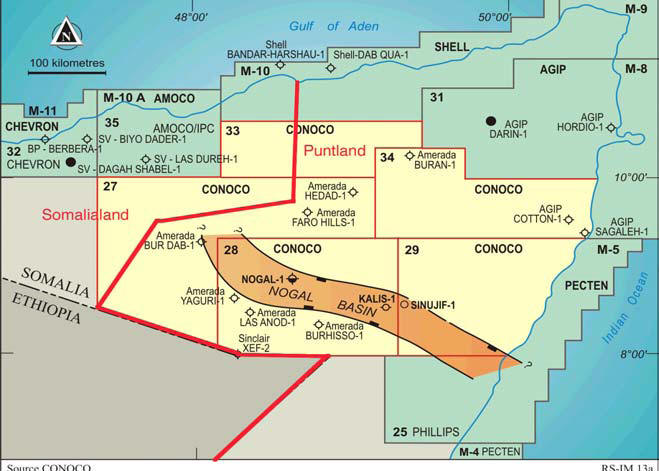 Previous Oil and Gas Concessions
Players content to resurface in region despite fresh fighting in Mogadishu
Upstream
December 21, 2007
OIL companies remain keen to re-enter Somalia, despite the recent escalation of fighting in the capital Mogadishu after Ethiopian and Somali state forces embarked on a fresh offensive against Islamist insurgents.
Efforts to shore up the multi-national peacekeeping contingent have stalled, leaving Ethiopian Prime Minister Meles Zenawi hard pressed to agree a credible timetable for the withdrawal of his troops following disquiet from the US over alleged human rights abuses.
The continuing unrest has largely focused on the southern clans, prompting the regional government of Puntland to consider going it alone.
Unlike the breakaway Republic of Somaliland, which intends to retain its as-yet unrecognised sovereignty, Puntland has always stressed a desire to fully participate in a Somali state once an effective and democratic administration is established and the Transitional Federal Government approves a long-awaited constitution.
Based in his capital Garowe, Puntland head of state Mohammed Hirsi claims the right under the Puntland Constitution to grant exploration and production concessions, and seeks to encourage oil and gas development as soon as practicable.
The Majerteeni sub-clan of the Harti-Darod clan predominate in Puntland. Related groups, such as the Warsengeli and the Dhulbuhante, live in the hydrocarbon-prospective areas of Sool and Sanaag. Inspired by clan rivalries and dreams of oil riches, it is here that splinter factions, mainly the Warsengeli, led by Jibril Ali Salad, set up a breakaway autonomous state of Maakhir that comprises four districts of Sanaag.
Neighbouring Sool has witnessed several clan leaders at battle with each other, which Garowe blames on external forces trying to provoke trouble with Somaliland. The Dhulbahante clan in Sool has declared an autonomous state around Las Anod, known as Daraawiish.
However, only a few observers appear to take either claim seriously.
The real area in dispute with Somaliland is just a few square kilometres, according to Hirsi.
He claimed that Puntland had been autonomous for 10 years and in full control of its borders.
Hirsi said: "We have no desire to disturb the Isak or Hawiye clans to the south."
Elder Bogor Abdullahi Muse Yusuf, a lawyer who previously represented ConocoPhillips in Somalia, said he was happy with Hirsi's intensive level of consultation.
"The process strengthens the Puntland government and country, even though it weakens our traditional tribal system, but that's ok," he claimed.
Elder Ugas Yassin said Puntland will never suffer from the so-called oil curse, because of its homogeneity and highly devolved system of governance.
© 2007, Upstream
Puntland prepares to take the lone path
Barry Morgan
Upstream
December 21, 2007
Vulnerability of Somalia's Transitional Federal Government exposed as four new Cabinet members quit and interim president rushed to hospital prior to key summit
SOMALI interim President Abdullahi Yusuf was rushed to hospital in the Kenyan capital of Nairobi last week, just hours before he was due to attend a summit in nearby Addis Ababa of sub-regional leaders in the presence of US Secretary of State Condoleezza Rice.
The septuagenarian former warlord of Punt, a semi-autonomous northern region of the fledgling Somali state dominated by Darod and Harti clans, has come under criticism at home for inviting Ethiopian troops to assist in quelling an Islamist insurgency in the southern part of the war-torn country.
Over the past week, four newly appointed Baidoa-based Cabinet members from the southern Rahanwein clans have resigned.
The walkout is a political setback for Prime Minister Nur Hassan Hussein, himself freshly appointed by Yusuf following protracted discord with the pre-vious premier Ali Mohamed Gedi over oil policy.
Claiming to have recovered from minor respiratory problems, Yusuf cautioned local media against misreporting his death.
This echoed rather more ribald sentiments expressed by the late great Nnamdi Azikiwe, one of Nigeria's founding fathers, who famously responded to the publication of his obituary by proclaiming that "news of my death has been highly exaggerated".
Despite upbeat reports, Yusuf's medical health is deteriorating rapidly according to local sources. He was admitted to hospital because of a worsening liver condition.
Aware of the opportunity, several advisors among the Puntland group, which serves Somalia's Transitional Federal Government, seized the chance to quit last week.
The resignations point towards regrouping ahead of the 2009 presidential polls.
It is unlikely that what remains of the Transitional Federal Government parliamentary consensus in Baidoa will be able to reconstruct and pass the required constitution, a petroleum law and hold a referendum before the electioneering kicks off in late 2008.
It more likely that Puntland clans will opt to go it alone, as the wider Somali polity weakens around them and the Transitional Federal Government experiment in sovereignty restoration heads for collapse.
Adding to the drama over the past week was the US Pentagon admission that it favoured recognising the breakaway Republic of Somaliland against the more conservative instincts of the State Department. This is a move that could encourage other component parts of the Somali nation to agitate for greater autonomy.
© 2007, Upstream.
All eyes on E&P revival
Barry Morgan
Upstream
December 21, 2007
Somali President puts his faith in new PM to focus on exploration
SOMALI President Abdullahi Yusuf appointed Somali Red Crescent manager Nur Hassan Hussein as the country's new Prime Minister, replacing Mohammed Gedi, who was ousted in October after feuding with Yusuf over oil policy and legislation.
Hussein, a graduate of Washington DC's International Police Academy, hails from the Hawiye clan - as does Gedi the most populous in and around Mogadishu.
Yusuf comes from Puntland in the extreme Horn, where the Harti clans predominate.
The main focus for companies to take part in the revival of Somali exploration lies in Puntland, where the regional government's militia provides what little stability exists in the Baidoa-based Somali Transitional Federal Government led by Yusuf.
Yusuf remains a powerful warlord with a loyal militia that is widely recognised as instrumental in holding the fragile Somali state together.
For Yusuf to maintain strong links with the local political apparatus has made the stability of his homeland his first priority.
Yusuf, along with neighbouring Yemen, backs the independent stance on oil policy promoted by the would-be Puntland Republic based in Garowe.
Yusuf opposes Gedi's draft legislation, which would have nullified all block allocations and oil deals after 1991, including recent accords with the Australian explorer Range Resources.
Prepared by Calgary law firm MacLeod Dixon, the putative law would have established a Somali Petroleum Corporation, effectively controlled by the Kuwait Energy Company and Indonesia's Medco which heavily influenced the drafting of the bill, according to Puntland President Mohammud Hirsi [Adde].
Hirsi says that his South African advisors, recommended by Range, have drafted Puntland's own petroleum code, which is due to be debated in Garowe's clan parliament.
He wishes to license remaining acreage, but on his own terms, and dismissed claims that a future independent Puntland could dispute Yemen's historic title to the island of Socotra or to portions of offshore blocks 94 and 95 offered by Sanaa in September's licensing round.
Sanaa listed Block 92 as vacant, although much of the acreage presented would fall within Garowe's Exclusive Economic Zone if the maritime border had been drawn equidistantly between Socotra and Somali.
"There is, and has never been, a claim to Socotra. Our enemies are telling lies to stir opposition. We have very good relations with Yemen, which we would not want to compromise," says [Adde Muse] Hirsi.
Ras al Khaimah Gas has a memorandum of understanding with Garowe for several relinquished areas.
Further south, China National Offshore Oil Corporation (CNOOC) and China International Oil & Gas have signed a memorandum of understanding with the Transitional Federal Government for the Mudug basin. They also want acreage in Puntland.
"Total and several others have shown interest through the Transitional Federal Government and the CNOOC delegation has visited us three times once with President Yusuf but we refused them on each occasion."
Landau says he offered 30% of the Nugal and Dharoor licenses to CNOOC with Africa Oil remaining as the operator, but the Chinese giant wanted more without being prepared to pay even $5 million towards the signature bonus.
The presidency and the traditional elders of Puntland will now evaluate how to licence remaining acreage along with that relinquished by Range after the initial exploration period expired, Hirsi explained.
Disturbances around Las Anod and in disputed areas, within the old provinces of Sool and Sanaag, claimed by the breakaway but unrecognised Republic of Somaliland caused market jitters over the ability of Garowe to administer and police its territory, much of it oil and gas prospective.
Range and operating partner Africa Oil is targeting leads falling outside the districts where recent skirmishes occurred, east of Las Anod and in Sanaag.
A degree of wishful thinking surrounds the Hargeysa-Garowe land dispute. The former's claim to own everything west of the 49th parallel would even have the Puntland capital fall within the jurisdiction of Somaliland.
"Eritrea is an issue for us and we believe Total is paying Eritrea, and also Somaliland to create trouble in Puntland, perhaps with a view to capturing part of Sool, which is rich in hydrocarbons. We lost a small area but it's not the most prospective," says [Adde Muse] Hirsi.
The 49th parallel cuts through Sool and Sanaag and part of the Nugal basin, in which Africa Oil, a Lucas Lundin vehicle, acts as operator.
Each of the first two prospects scheduled for drilling early next year may hold about 500 million barrels of 49 degree API crude, according to Landau.
About 70 targets require further analysis of well charts re-interpretation, which is likely to last six months, before the additional drill sites are finalised.
[Adde Muse]Hirsi says Africa Oil is looking to bring in another partner, who will help offset costs and speed up the programme.
"We are not talking about a joint development zone right now, although we want to discuss all the options with our neighbours. We cannot wait until that day comes before proceeding with exploration," says Hirsi.
The draft Minerals & Petroleum Resources Development Bill has specific provision for conflict resolution, agrees to apportion royalties and avoids the provocation creating a state oil company for Puntland.
Meanwhile, Hirsi is confident the major concession-holders in Somalia - ConocoPhillips, Agip and Shell subsidiary Pecten - were aware that substantial oil and gas resources lay under Somali soil. He adds: "But companies like Agip spent vast sums in a bid to keep it quiet and hold them in reserve."
Hirsi faces elections in 2009.
© 2007, Upstream.
Range Resources rebuffs claims of being chased off
Upstream
December 21, 2007
AUSTRALIAN explorer Range Resources denied Somali reports that local militia frightened off its team by chasing them out of Buru in Somalia's semi-autonomous region of Puntland, confiscated equipment and warned them not to return.
Range aims to start drilling next year, on acreage previously held by Conoco and neglected since civil war broke out in the early 1990s.
Country manager Liban Bogor said preparations to drill two wells back-to-back from late January were on track with backing from the government of Puntland President Musa Hirsi and local elders.
Bogor said two geologists were trying to take readings near Buru, prospecting for uranium, when an incident involving a couple of villagers occurred. They discussed a solution, and no equipment was taken.
Range director Peter Landau predicts the company will reassign its Somali interests after the expected first discovery next year.
The plan for Range is to expand its African portfolio from its Somali base, where it remains operator for the country's sprawling offshore acreage.
Ongoing fundraising by Range in the world's capital markets will assist plans to jointly explore more African acreage onshore Angola to the north of Luanda.
Range is jointly bidding with an undisclosed company for a production sharing licence, which Landau said is unlikely to be awarded under competitive tender.
© 2007, Upstream.
Yusuf [Gaagaab] interested in profit split over natural resources
Upstream
December 21, 2007
PUNTLAND Minister of Finance Mohammed Yusuf [Gaagaab] says the autonomous republic could agree to a 40% or 50% profit split with the Somali Federal Government, if constitutional talks succeed in transforming the existing political arrangements in the near future.
Otherwise, the Africa Oil and Range Resources production sharing agreement specified a 50:50 profit split with the government and with royalties sliding between 4% and 10% off the top.
Most of the original PSA terms are drawn from the Yemen model applied to the Hunt Oil agreement, which has been adjusted to reflect political risk. The original Range deal was signed in 2005, which former prime minister Mohammed Gedi later opposed.
The final PSA and attendant work programme was signed earlier this year by the Transitional Federal Government President Abdullahi Yusuf of Puntland, according to Range Resources director Peter Landau.
"The Puntland constitution allows Garowe to grant rights to natural resources. Although such resources would form part of the federal Somali patrimony, once a firm system of government is introduced," says Landau.
Range is assisting four Puntland graduates on petroleum courses at Curtin University in Perth, Australia and helping them pursue training at West Australia's Department of Minerals & Energy.
It also aims to set up a similar office in Garowe that is capable of evaluating oil and minerals prospectivity and administering a licensing process.
Landau is not worried that oil giants will look to return to Puntland acreage at a future date, having earlier claimed force majeure during the civil war.
In 2003, Agip and Pecten were invited back but Pecten failed to even respond.
In 2002, ConocoPhillips listed Somali acreage in its annual report as part of its undeveloped portfolio and the following year removed all reference.
© 2007, Upstream.
Yemen remains threat to stability of Garowe
Upstream
December 21, 2007
DISSENTING voices speaking out against the Somali region of Puntland's efforts to go it alone include Ceerigaabo Akiel [Caaqil] or traditional elder Ahmed Jama-Bodhe, a Dhulbahante from Sool-Sanaag.
Educated in Ghana and Wye College in the UK, Nairobi-based Jama-Bodhe believes the Yemeni claim to Garowe's offshore should not be taken so lightly.
"There was definite pressure on Puntland in September to leave the map alone, since Sanaa was planning its fourth licensing round," said Jama-Bodhe.
Yemen promoted blocks 94 and 95 in Puntland waters, but kept Block 92 open.
Jama-Bodhe has accused Yemen of illegal fishing, and has made it known that he suspects some vessels of covertly shooting seismic.
Jama-Bodhe, who previously headed the United Nations' Food & Agriculture operation in Mogadishu before the civil war, believes the oil majors should be persuaded back to Puntland.
He contests claims by Garowe that all oil majors had been formally invited to review force majeure and resume operations.
Jama-Bodhe said Conoco did not focus most of its work on Nugal-1, Block 28b or Kallis-1. He said the US giant concentrated on Holhol-1, north of Las Anod, which was abandoned after hitting very high pressures.
"If Conoco came back, all this unrest would evaporate," Jama-Bodhe claims.
Former special advisor and chief strategist at the Somali Transitional Federal Government's Ministry of Petroleum & Energy Ali Abdullahi agrees, as he has collected as much drilling data as possible after the peace agreement. However, Nogal-I only reached 8000 feet, falling short of the 9000 feet depth target.
Abdullahi, who runs Amsas Consulting out of Australia and Dubai, plans to take a team of Kenyan geologists to visit Garowe and carry out seep analysis in the Mudug basin where the Chinese are angling for acreage.
Despite dry holes by Oxy in 1987, then Pecten (Shell) and Elf (Total), he believes offshore prospects are high, especially where sediments are deep.
"There has been a lack of transparency in Puntland's oil policy," claims Abdullahi.
"Garowe should have floated a public company, sold shares to its own people and then launched an exploration drive with the big companies, preferably the original concession holders," he added.
© 2007, Upstream.