Presidential Troops, Militia Clash in 'Somaliland'
Hargeysa Shelled
London BBC World Service in English
1705 GMT 15 Oct 1994
[From the "Focus on Africa" program]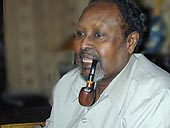 Egal
Clashes have broken out in the self-proclaimed Republic of Somaliland in northwestern Somalia. Militiamen controlling the main Hargeysa Air­port [words indistinct] attacked troops loyal to President Mohamed Egal. A few minutes ago on the line to Hargeysa, Dan Isaacs asked President Egal what has been happening:
[Begin recording] [Egal] Today, [words indistinct] in the middle of the night and went to this road you know, and it is about 0400 in the morning they attacked. I was forced to [words indistinct] that road you know. At 0500 I was woken up and I was told (?what) was happening and we chased them away again from the road as they ran back to the airport and I told them to stop there. I said we do not want any bloodshed. (?We chased) them up the road [words indistinct] any further. [words indis­tinct] they had gone back to the airport and at 0900 this morning they started shelling the city from the airport on a (?height), which overlooks the town.
[Isaacs] So, this morning after the incident on the road, the militia of the airport in fact have been shelling the town of Hargeysa itself?
[Egal] Yes, they started shelling the town of Hargeysa itself and that is when I could not take it anymore so I gave orders to our security just to go after them, expel them from the airport and not to let them (?escape) and try and (?capture) [words indistinct] and even if they have to chase them all the way to the border, they should not let them go. I think these people [words indistinct] We really have to take military action against them and the fighting is still going on and it is not going to stop until we (?finish) them out everywhere out of the whole country [words indistinct].
[Isaacs] So, what is the situation at the airport, have you scared off....
[Egal, interrupting] I have not had a report for the past one hour, but our forces commenced the attack at 1530 this afternoon on the airport. The shelling of the city has stopped apparently. They have been silent, but I can still hear the explosions on the [words indistinct] It is very far from the town you know, the airport is on a hill, on a [words indistinct] The conflict is still going on. We can still hear the sounds of the conflict.
[Isaacs] Are you aware of any casualties at the moment?
[Egal] Well, the only ones are the ones that were sus­tained this morning. Four of our soldiers were slightly wounded and as far as they are concerned they left behind one armored car, and in the car we found two' dead bodies. How many of them died, we do not know,[end recording]
Militia 'Dislodged'
Paris AFP in English
1016 GMT 16 Oct 1994
Tribal militiamen battling Somaliland security forces in the territory's capital Hargeysa have been dislodged after a day of fighting, the president of the self-proclaimed independent Republic, Mohamed Ibrahim Egal, said Sunday.
In a telephone conversation with AFP from his residence in Hargeysa, Egal said the militias had initially occupied the trunk road to the Indian Ocean port of Berbera and the airport.
After security forces chased them out of the area on Saturday, they started shelling the city with artillery, Egal added.
He said the 300-strong militia forces were armed with some half a dozen armoured cars, nicknamed "Technicals", one of which was captured and its four occupants killed, but could not confirm if there were other casualties in the conflict.
The Somaliland leader, whose country has not been internationally recognised, said that by 9.00 a.m. (0600 GMT) on Sunday, the road and the airport had been cleared of the tribal militias.
"I have today removed the last obstacle to Somaliland's destiny", Egal declared.
He stated that the insecurity caused by the tribal militias in Somalia's former northern region, which declared itself the independent Republic of Somaliland after the overthrow of dictator Mohamed Siad Barre in January 1991, had been used by the UN Operation in Somalia (UNOSOM) to deny it international recognition.
Asked whether he would attend the Somali reconcilia­tion conference scheduled for the Somali capital Moga­dishu on October 27, if invited, Egal declared that "Somaliland seceded from the rest of Somalia three years ago and will never have anything to do with what is happening in Mogadishu.
"I am aware that the man who declared Somaliland independent in 1991 is currently masquerading in Mog­adishu claiming to be leader of Somaliland and is being paid by UNOSOM to attend Somali clan meetings," Egal added.
He was referring to Somaliland's former president Abdulrahman Tuur, reported to have been one of the leaders of 12 Somali clan factions who signed Friday's agreement to convene the October 27 conference.
"Abdulrahman Tuur is a traitor and quisling who will never return to Somaliland," Egal charged.
A major UN military and humanitarian operation in Somalia, currently largely scaled down, was launched last year, taking over from an initial US-led mission to help protect aid supplies and humanitarian work amid mass famine and strife.
The massive foreign intervention has failed to end the conflict among Somalia's rival warlords and their clans.
Egal Forces, Tur Supporters Clash in Somaliland
Paris AFP in English
0943 GMT 17 Nov 1994
­Rebels in the secessionist Somaliland region of northern Somalia attacked the capital Hargeysa this week forcing civilians and foreign aid workers to flee, a UN official said Thursday [17 November] from Mogadishu.
UN spokesman George Bennett told AFP that Hargeysa came under attack Tuesday by forces loyal to Abdirahman Tur the founder of the breakaway Republic of Somaliland, who was ousted in February last year.
Bennett said from the Somali capital Mogadishu that approximately 20 foreign aid workers were being evacu­ated to nearby Djibouti. But he said no contact had been made with a German anthropologist working in the area independently.
The current "president" of the state proclaimed in what was British Somaliland, Muhammad Ibrahim Egal, told the BBC in an interview early Thursday that at least 30 people had been killed in the fighting. He said his troops were engaged in "mopping up" operations. Bennett said both sides claimed to be in control of Hargeysa.
Relief agencies in radio contact with their headquarters reported Thursday morning that the situation in Hargeysa was calm. Bennett said militias loyal to Tur attacked a police station and a market in the capital and spoke of 13 killed, mostly civilians.
Bennett said Tur's supporters claimed to control Hargeysa and that Egal had fled to his stronghold of Berbera, some 300 km (180 miles) to the northeast on the Gulf of Aden.
The rebels put the death toll at 80 and claimed to have captured 200 of Egal's fighters, Bennett added.
In his interview with the BBC, Egal said the rebel militias were not in control of any part of Hargeysa but were using what he called "urban guerrilla tactics" to launch attacks in several parts of the city. "They are a nuisance and we are trying to deal with them," he said.
Egal said the rebels were out to exact revenge on his government for ordering troops to dislodge them from Hargeysa airport where they made money by levying taxes on arriving and departing flights.
Somaliland declared itself independent after the over­throw of dictator Somali Mohamed Siad Barre in Jan­uary 1991 and up to now had escaped the worst of the faction-fighting affecting the rest of Somalia. The break­away state has not been recognised internationally by any country.
Egal replaced Tur, Somaliland's founding president, after a council of elders passed a vote of no confidence in him in February last year.
Tur has since denounced the self-declared Republic and proclaimed his readiness to rejoin a united Somalia under a federal system, while Egal has refused to renounce independence.
The rest of the country meanwhile is divided among warring clans, and the UN Security Council has ordered the withdrawal of the last 15,000 UN troops from Somalia by the end of next March after failure of the clan leaders to agree on a government of national unity.