I will look like a white person from head to toe
Noni Mokati
Saturday Star
October 29, 2011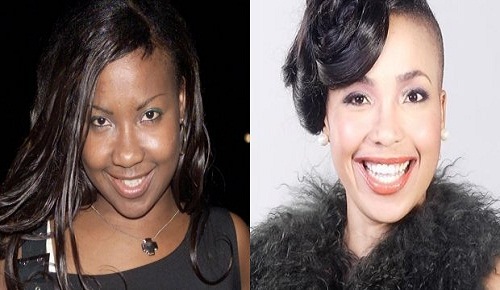 Mshoza before and after
But musician Mshoza will still be a kwaito star inside.
She APPEARS to be doing a "Michael Jackson" - lightening her skin and surgically altering her appearance - but kwaito musician Mshoza is determined to make her mark on life.
"Calm down!" she says to naysayers after widespread reaction to her latest skin-bleaching venture.
Unperturbed by derogatory statements and jokes on social networking sites, Mshoza (also known as Nomasonto Mnisi) yesterday said she worked hard to afford the life she now leads.
"Thirteen years ago, while other girls wore heels, I opted for takkies and Kangol hats, all in the name of making it big in the music industry. Nobody said anything then.
"Before my fame I went to bed without eating but made up for it through hard work. I don`t understand why people now have a problem with me using my money to do whatever I want. It`s my life.
"Perhaps they should start living a little instead of eating a bowl of negativity all the time," she said.
According to the singer, who has already spent hundreds of thousands on rhinoplasty (her nose), breast augmentation and a tummy tuck, her look, which is set to cost her millions, is only the beginning of a lengthy and complicated process.
"I`m consulting three dermatologists. They have completed the first phase. I don`t really look pale at the moment. But yes, when everything is said and done I will look like a white person. From head to toe. I might also have to redo the rhinoplasty to fit my new skin. But this doesn`t mean I`ll start singing pop music or act differently.
"I`ll still be the same person my fans know."
The singer, popularly known for her song Kortez, said she was unable to say when the surgery would be completed.
She poured cold water on suggestions that she was emulating pop icon Michael Jackson.
"My nose definitely won`t fall off, nor will I have to hide certain parts of my face and body for the rest of my life. That`s why we`re taking time on this.
"Michael Jackson did the entire thing on his terms and I`m doing it on my terms. So people should stop holding up umbrellas when they see me. I won`t melt," she said.
The mother of two revealed that the reasons behind her skin colour changes were a sore subject for her.
"In the past I had to use heavy make-up to hide the blotches on my face. I`ve always had skin problems and it somehow lowered my confidence. At least now I can do something about it."
Asked if she was unhappy with the way she had been born, a confident Mshoza replied: "I don`t have a problem with the way God created me. In fact I love him. I pray all the time.
"I`m just doing what I love. The same people who are criticising me for doing this have fake hair, nails and lashes.
"I`ve received many calls from people saying they wanted to do the same thing."
Mshoza said her husband was supportive and that her children were not bothered by her new look.
"Perhaps they`ll start asking questions when they`re much older. I`ll just tell them that we are not white and that mommy only wanted a fair skin. They can do the same when they are older. If they want to."
Meanwhile, some Twitter users have gone as far as to say Mshoza was recruiting white masses for the Democratic Alliance among other remarks about the kwaito queen`s new looks.
But Mshoza said she and her business tycoon husband, Jacob Mnisi, shrugged it off.
"We read all these comments when we`re together and laugh about them. They all sound ridiculous.
"He`s happy and I`m happy about the changes. That is all that matters," she said.
© 2011 Independent Newspapers (Pty) Ltd
African Singer Speaks Openly About Bleaching Her Skin
By Danielle
Rollingout.com
May 08, 2011
Changing the color of one`s skin is nothing new in the U.S. when you consider the popularity of tanning booths, spray tans and sun bathing. Just last week Patricia Krentcil, 44, was arrested in New Jersey for reportedly bringing her 6-year-old daughter to a tanning salon. The mother, whose UV ray addiction is apparent when you consider her leathery skin, was looking to darken her skin tone and achieve a healthy glow.
And while that plot has failed miserably and the mom is now a blood orange hue, other people in the U.S. and around the world are striving for the look women like Krentcil left behind.
Before her tanning exposé, Krenticil could have been the inspiration for African singer Mshoza who has spoken openly about consulting three dermatologists to help her bleach her skin. The singer made headlines this year for a Drum magazine article where she stated that she was `tired of being ugly` and wanted to be `Christina Aguilera white.`
"It is just something that I wanted to do," said the singer. "It has nothing to do with my esteem and issues with being black. It`s just sad that people with weaves and all other cosmetic enhancements to make themselves look western are on high horses judging me. I just wanted a lighter skin. Our parents have been burning themselves with skin lightening creams for decades. It was never made an issue about self-esteem and race. People must calm down."
While Mshoza is arguably the most open and clearly the most disturbed, she`s not the first celebrity to be accused of bleaching, check out other celebs accused of lightening their skin below.
Lil Kim
Like the singer Mshoza, Lil Kim has had extensive plastic surgery to "enhance" her appearance. Over the years she`s been accused of trying skin bleaching as one of those so called enhancements.
Sammy Sosa
Famed baseball player Sammy Sosa turned heads in 2009 when he showed up at a red carpet event looking significantly lighter, while wearing contacts and seemingly straighter hair. The athlete later admitted to bleaching. "It`s a bleaching cream that I apply before going to bed and it whitens my skin some," said Sosa. "It`s a cream that I have, that I use to soften [my skin], but has bleached me some. I`m not a racist, I live my life happily."
Vybz Kartel
Jamaican rapper Vybz Kartel has been open about his quest to become lighter. The emcee whose new look is slightly ghoulish, reportedly used cake soap to achieve a lighter hue.
"This is my new image. You can expect the unexpected. I feel comfortable with black people lightening their skin. They want a different look. It`s tantamount to white people getting a sun tan," he said.
Beyonce
In 2011 Queen B raised eyebrows when she attended the Grammy Awards looking similar in color to her good friend Gwyneth Paltrow. Bey has yet to respond to bleaching claims (of course) and more than likely never will.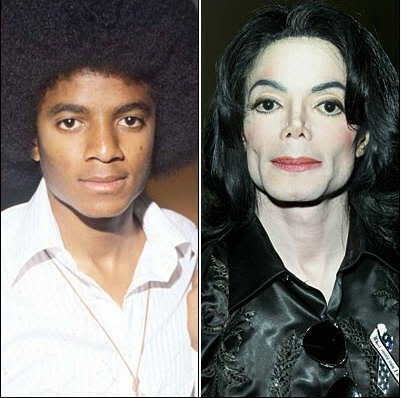 Michael Jackson
Before his death, Michael Jackson`s skin tone was constantly criticized with a number of people accusing him of "trying to look white." The singer was adamant however that he had vitiligo, a skin condition in which there is a loss of brown color resulting in irregular white patches. After his untimely death in 2009, an autopsy confirmed that he had the condition.
Iman
Last year TMZ pointed out that super model Iman has gotten significantly lighter over the years. The model has yet to respond to lightening claims.
US medical officials go undercover to find skin-lightening creams with dangerous mercury
BY BETH DUFF-BROWN
The Canadian Press
February 22, 2012
SAN FRANCISCO _ California health officials became alarmed when a 39-year-old Mexican-American woman was diagnosed with mercury poisoning, giving her headaches, numbness, depression and forgetfulness.
Scouring her home for the likely culprit, they determined that an illegal skin-lightening cream smuggled in from Mexico was to blame.
Health investigators are going undercover in some San Francisco Bay Area ethnic communities whose cultural norms lean toward lighter skin as a marker of beauty to find the foreign-made products, whose pigment-busting ingredient can have damaging side effects.
The unlabeled jars of mercury-laced cream are typically used to lighten skin, fade freckles and age spots, as well as treat acne.
The mercury blocks melanin, which gives skin and hair its pigmentation.
But mercury poisoning can harm the body`s nervous system and kidneys. Even mild to moderate toxicity due to inorganic mercury can include irritability, difficulty with concentration and memory loss. Insomnia and weight loss can also be side effects and so can tingling in hands, feet or around the lips.
California health officials worked with the U.S. Centers for Disease Control and Prevention to write a report in January that indicated at least 22 people in five households in California and Virginia had shared skin-lightening creams made in Mexico. Twelve people in California and 10 in Virginia had mercury in their bloodstream; the highest levels were among women who typically used the cream at least twice a day.
The report found that six of those in the study had symptoms consistent with chronic exposure to mercury, including numbness, tingling, dizziness, forgetfulness, headaches and depression. All reported getting their creams either directly from Mexico or from relatives in Virginia who had purchased the creams in Mexico.
Twelve of those with mercury levels found in their urine had not used the creams, but likely were exposed to it by hands that still carried traces of the heavy metal. The youngest among those was an 8-month-old baby.
``It is most harmful on the nervous system and the kidneys and then can also cause changes in personality and a variety of other problems,`` said Dr. Rupali Das, a co-author of the CDC report. ``We`re concerned about the harmful effects that mercury can have on children. It can delay their development and they might not catch up _ ever.``
Some of the creams collected and analyzed by California medical officials contained mercury levels 20,000 to 56,000 parts per million. The U.S. Food and Drug Administration allows only trace levels of mercury in creams, or less than 1 part per million.
California health officials believe there likely are many more people who are using the cream and are unaware of its dangers. The products often enter this country hidden in luggage, or are smuggled across the border. Then the creams are sold under the counter at shops and pharmacies that cater to ethnic communities.
The Minnesota Department of Health warned residents last year that skin lightening products being sold in African, Asian, Latino and Middle Eastern communities contained dangerous levels of mercury. The Environmental Protection Agency has warned about the presence of the heavy metal in creams sold in the Chicago area.
Latinas, Asians and Filipinas were the predominant users of the creams in California, Das said. For some members of those cultures, traditionally darker skinned people were the labourers who worked outside in the sun, she said, while lighter skin was often considered a symbol of higher social status and wealth.
The highest mercury levels were in the 39-year-old Mexican-American woman and her 4-year-old child. The woman had 100 times the safe level.
Her 4-year-old child, whose mercury levels were 25 times higher than normal, appeared to have no serious symptoms. Investigators determined the woman used the cream twice a day and her husband once a day for about three years to fade freckles and age spots.
The CDC says inorganic mercury can be ingested, inhaled or absorbed through the skin; then excreted in urine, sweat and breast milk. The half-life of inorganic mercury is one to two months, so mercury levels can increase with repeated application of the creams.
© 2012 The Canadian Press. All rights reserved.
Opinion
African Beauty, Under Threat
by Honourable Saka
June 12, 2012
Mshoza before and after
Jun 12, 2012 (The Herald/All Africa Global Media) -- Africa is a continent that is very rich, not only in natural resources, but also in cultural diversities. Africans are arguably the most diverse people on earth. Most people on the continent are quite diverse from country to country and from region to region. Thus, the Francophone African countries are slightly unique when compared with the Commonwealth African countries. More than 3 000 unique ethnic groups are recognised in Africa. African traditions, customs, languages, and culture are unique and also vary from country to country. In spite of the diversities, the ultimate African identity as portrayed by the colour of their skin is what makes Africans all over the world, one people, with a common destiny.
In the light of this, Peter Tosh, an African reggae legend from Jamaica, said this to Africans all over the world:
" . . . Don`t care where you come from, as long as you`re black, you`re an African. It doesn`t matter whether you were born in Cuba, Portland, France, Brooklyn, Brixton, Canada, Germany, Russia, you`ve got the identity of an African. Don`t mind your nationality. Never mind your religious denomination because it is only a tool for segregation. Whether you`re a Methodist, a Catholic, a Muslim, whether you go to the Church of God or whatever your religion; there is no rejection. Even if your complexion is high or low, you`re still an African. Be proud of your African identity . . ."
By this, one can clearly understand that the African identity goes far beyond mere nationalities, place of birth and religious denominations. As far as the African identity is concerned, there cannot be and should never be expressions like: African-American, British-African, Afro-Latino, Franco Africana, etc. The African is and will always be an African regardless of where he/she was born.
Culture can be defined as the way of life of a people in a given society. It is characterised by beliefs, traditions, customs, religions and others. A people`s culture can be seen in the food they eat, the kind of clothes they wear, their music, dance, values (what is acceptable to them as a people) and to some extent, their perception of life.
Like other cultures, the modern African culture places emphasis on personal appearance. Beads, jewellery and other similar items, remained an important personal accessory in the life of the African woman.
Many pieces of such jewellery are made of cowry shells, wood and similar materials. African cultures are diverse and varied; not static, and like most of the world have been impacted upon by external forces. During the post-colonial era, African women and African fashion played an important role in showcasing Africa`s beauty in what was then referred to as "The pride of the African woman".
As the African fashion gained momentum, African women demonstrated the pride of their beauty, by dressing with dignity and making sure that all sensitive parts of their bodies were adequately covered. Practices such as indecent exposure; exposed cleavage, naked tummy, the exposure of all other sensitive body parts were completely unacceptable to the African woman who placed her dignity far above anything else. As a result African women were highly respected by society because dignity and respect were very essential requirements for them to find a responsible man for marriage.
However, the advent of Western civilisation: hip-hop music, Rn`B, and indecent dressing portrayed by fashion, has recently cast a dark shadow over the pride of the African beauty. African women of today, both young and old can shamelessly walk the streets virtually naked in the name of fashion.
Some even go to church improperly attired: luscious breasts exposed, transparent dresses, mini skirts and all manner of extreme body exposure that only seek to harass their male counterparts. They watch movies where such lifestyles are considered to be "hot" and "sexy". Therefore the African woman thinks that it is alright to expose her precious assets for the world to behold even if it means risking her dignity. Little or no attention whatsoever is paid to human conscience.
After all, being "sexy" is all that matters.
According to one estimate, African girls of today spend more money on fashion than what they spend on books and food combined. From pedicure to manicure, skin bleaching cosmetics, hair relaxers, wigs, weaves, eyelashes, nails, among others. Many women in the universities even go to the extreme: they blow part of their school fees on items that will make them look sexy. Take Nigeria for example, it is estimated that Nigeria has a population of about 155 million with about 56 percent between the ages of 16-54 years old. Out of these age group women are more than 40 million.
Therefore with over 40 million women in Nigeria, if each one of them spends at least US$1 a week on any of the above items, how much will that be? At least that is US$40million dollars per week, making it about US$150/month. Mind you this figure just applies to Nigeria only. What about the women across all the 54 African countries combined? Everyday, Korean and Brazilian families thank black women for giving their countries US$16, 4 million dollars each. The low self-esteem of African women is making them very rich and they`re happy about that. -- Mathaba.
© 2012 AllAfrica, All Rights Reserved