Skin-lightening creams face west African backlash
Afua Hirsch
Guardian.co.uk
November 14, 2012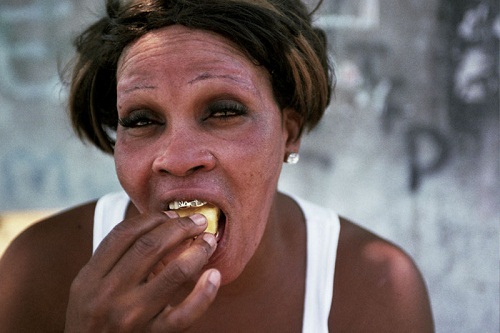 New advert for `all white` product promising extreme skin-whitening provokes public outrage and calls for ban
It is a familiar formula for persuading women to buy a new beauty product: plaster billboards of a beautiful model in the capital city, accompanied by a catchy slogan written in the language of the ordinary woman.
But when new adverts for skin cream "Khess Petch" – a skin lightening cream whose name means "all white" – appeared in Senegal, they had the exact opposite effect. The ads, which boasts extreme skin-whitening after 15 days, complete with dramatic before and after shots, provoked mass public outrage and calls for the government to introduce an industry-wide ban.
"We are used to seeing adverts for skin lightening, but when we first saw these adverts for Khess Petch we were really scandalised. We decided to act," said Aisha Deme, manager of an online events website in the Senegalese capital, Dakar.
"Society is constantly telling us that fair-skinned women are beautiful – in the media, on TV – and Senegalese women have started to believe it," Deme added. "So we want to show that dark-skinned women are really beautiful, and that natural black skin should be celebrated."
Deme now co-ordinates a campaign called Ñuul Kukk – which means "pitch black" in local language Wolof – and has attracted thousands of supporters on Facebook and high-profile friends, including the actor Awa Sene Sarr and rapper Awadi.
Senegal`s health minister, Eva Marie Coll Seck, has also met the group, and expressed her "outrage" about the adverts. But , fuelled by the prevalence of fair-skinned images in films, magazines and advertising.
"Skin complexion matters. [Many women believe that] women with fair skin are more successful, women with fair skin are the ones who stand out," said Dr Fatou Fall, a dermatologist from the institute of social hygiene in Dakar.
Dermatologists say that many of the products include steroids corticosteroid and clobetasol propionate, a cream which should be used for the treatment of severe skin inflammation and prescribed by health professionals, and hydroquinone a potentially carcinogenic chemical which limits melanin production in the skin, and is banned in the EU.
Although Senegalese law includes controls over the creams, including a ban on creams with more than 2% corticosteroid, the laws are poorly enforced, with products with much higher levels freely available in stalls and marketplaces in Dakar.
Critics say that the cost of Khess Petch – at 1,000 CFA francs a tub – less than £2 – deliberately targets the products at women who are unaware of the risks.
"There are expensive face-lightening creams which are less dangerous, but products like Khess Petch are very cheap and very dangerous – they are deliberately targeted at women in the villages and the poor urban areas," said Deme. "Even when they discover the side-effects and want to stop using the creams, they find they cannot stop. It`s only when you stop that the skin changes and begins to become completely burned."
"When women who use these creams stop, they look horrible," said Fall. "They actually start looking more black, all the side effects manifest at the same time, which they just can`t accept."
© 2012 Guardian News & Media Limited. All rights reserved
Jammeh Says His Government Will Not Ban FGM
January 25, 1999
Banjul (Spice News Services, January 22, 1999) - President Jammeh on Tuesday told a group of Muslim elders that his government will not ban female Genital Mutilation (FGM).
Speaking to the Muslim elders when they called on him after the Eid prayers to mark the end of Ramadan, President Jammeh alleged that campaigners against the practice are receiving millions to undermine Islam and the African culture.
"FGM is part of our culture and we should not allow anyone to dictate to us how we should conduct ourselves," he said. He accused campaigners against the practice, including the Islamic scholars who preach against it, of being used by the "enemies of Islam" to undermine and eventually destroy the religion.
He said that there were several other things affecting the health of women such as skin bleaching, but that no one has been mobilised to fight against it. Therefore, he said, there must be some ulterior motives for the West to single out FGM and put in a lot of money for its elimination. He added that if they were concerned about the welfare of women and children, why should they always pull out their own nationals from African conflict areas and leave the African women and children who are usually the worst affected in such conflicts?
In a veiled threat to the campaigners, the president said they should be ready to face any consequences that may befall them.
"There is no guarantee that after delivering their speeches they will return to their homes," he threatened. He said that FGM is a matter of choice and not a force. "Our main objectives are to alleviate hunger and poverty, not to ban FGM," he remarked.
There are several women`s organisations actively campaigning against the practice of FGM. They usually organise seminars and other activities, which are usually funded by the WHO, UNICEF, and UNFPA, as well as other international donor agencies. These groups recently intensified their campaign for the government of The Gambia to enact a legislation banning the practice, especially after Senegal banned it last December. Addressing one such seminar recently, the WHO Regional Director for Africa Dr. Ebrahim Malick Samba, himself a Gambian, described FGM as unnecessary and a health hazard, and called on the government to ban it.
The vice president, Mrs Isatou Njie-Saidy, who also holds the Health and Women Affairs portfolios, is prominent in the campaign to eliminate the practice. Some of the campaigners against FGM as well as other women activists expressed anger and disappointment at the speech, describing it as unfortunate.
A spokesperson of one of the most vocal groups against FGM, the Gambia Committee Against Harmful Traditional Practices (GAMCOTRAP) described the speech as retrogressive. She called on the government to clarify its position on the issue and to tell the Gambian public what has become of all the protocols and agreements that they signed with UN agencies such as WHO, UNICEF, and UNFPA to eliminate the practice.
She also called on the government to clarify the position of the plan of action for the elimination of FGM which was recently formulated by the department of state for Health under the direction of the Vice President.
© Distributed via COMTEX News.
Skin bleaching on rise in Africa
Penangnini Toure REUTERS NEWS AGENCY
The Toronto Star
March 10, 1997

Paul Biya of Cameroon (30 years in power) and his wife Chantal Biya.
ABIDJAN, Ivory Coast - Skin bleaching, once a limited U.S. export to the black ancestral homeland, has now swept parts of Africa where television represents a light complexion as sexy, fashionable and a ticket to success.
"Skin bleaching is becoming rampant in Africa," says Dr. Andrew Kosia, a dermatologist from Sierra Leone.
"Ghana and Nigeria are seen in the forefront of users," adds Dr. H. D. Addo, from Ghana. He also names Senegal, Ivory Coast and Sierra Leone.
Some among the coloreds, or mixed-race people, in southern Africa also use skin bleaches to exaggerate the amount of white ancestry in their families.
Dutch physician Wiete Westerhof likens blacks who want to lighten their skin to whites in search of the perfect suntan. "They don`t want actually to look white, because that is not their ideal. But they want to look lighter.
"The opposite is also true. White people don`t want to look like a black person when they tan. But they want to give the impression that they are healthy, wealthy, and so on. It is something irrational."
And while some doctors worry about the carcinogenic effect of solar rays on white skin, medical scientists are equally concerned about the side-effects of skin bleaching, such as a possible adverse effect on the kidneys.
Addo says many users ignore the dangers or are unaware of them. "They insist on doing it because they believe they will be the exception. They only see the immediate benefits."
Dr. Pierre-Andre Aka from Ivory Coast says that in predominantly Muslim Senegal, where polygamy is prevalent, rival wives lighten their skin to compete for their husband`s favor.
Addo recalls a more unusual case. "A woman in her late 50s told me that she wanted to look pretty on the day of her death when she would be lying on public view."
Toxic products damage the skin, often disfiguring those who use them. This can take the form of unsightly black or white patches. In some cases, stretch marks appear in strange places or the skin becomes very thin and prone to bleeding and infection. Some users perspire profusely and smell unpleasant.
Addo says huge profits are made from the products as some users "would rather buy cosmetics than buy food."
Some users concoct their own products by mixing illegally obtained chemicals.
The experts, meeting in Abidjan, agree that "local manufacture and importation of cosmetics and toiletries containing hydroquinone and mercury should be discouraged by the health authorities of the African countries.
"There is a need to educate the public, school children, market women and men alike, the literate and illiterate, on the adverse effects of these products."
They also highlight a "need for a change in attitude to appreciate the beauty inherent in black skin and the protective nature of the black pigment (melanin) against aging and the carcinogenic effects of the sun."
Sierra Leone plans a radio and television campaign built around the slogan "Black is beautiful, keep your color."
© Copyright 1997 The Toronto Star
Opinion
Skin Bleaching is a Sin Against God
by Akua Djannie
September 18, 2007
Sep 18, 2007 (Ghanaian Chronicle/All Africa Global Media) -- For some reason, a lot of the young people around me are always looking to me for solutions. And not too long ago, a young lady whom I shall call Yaa, came to me with what was for her a very serious dilemma. You see, Yaa`s one true desire is to act. In films. O yes, those that know her say from the day she was born, that has been Yaa`s only destiny. Anyway, recently she went to audition for a new Ghanaian film and left the place so distraught. The reason? Maybe if I put it in the words of the director, it would be easier to explain. "You see that girl over there? The only difference between you and her is that she is fair-skinned. Actually, that`s not true. You are a better actress, but we like to work with fair skinned women in our films. Now, if you can tone your skin, we can consider you for future films." And there, dear reader was the reason for Yaa`s dilemma.
Here she was, a very dark skinned woman. Following her heart`s desire. Yet, it looked like for as long as she maintained her natural God given colour, she would not be able to pursue her dreams. So this young lady came to me for advice. What should she do? Should she tone a little?
I was aghast. How could she even consider bleaching her beautiful black skin? How? Call it toning, skin cleansing, skin clearing, give it whatever fancy name you want, it is skin bleaching. It is disgusting. It is an insult to all Afrikans worldwide (by Afrikans I`m referring to every black person who accepts their Afrikan heritage). It is a health hazard. But above all, it is a huge insult to our Maker. O yes, a huge insult. Because how can we turn around and tell God we know better the colour we want to be? My goodness, when are Afrikans going to get over this skin colour thing? Look, as Afrikans God created us in a myriad of colours. We come in shades from caramel brown to dark chocolate. We are beautiful in our various shades.
As I sat listening to Yaa lament, I began to think about the origins of skin bleaching. I don`t even know who invented bleaching creams. But it looks like they are here to stay. I tell you, it never ceases to amaze me that a country such as Ghana should proudly advertise skin-bleaching agents on huge billboards.
No matter what, I will never advocate skin bleaching. I think it is a weak character that gives in to the social pressure of looking "light". I just don`t get it. I mean, have you ever seen a bleached person? They look like a human tye and dye, a human batik. They look ugly and smell really awful. O yea, it`s true.
So what is it that drives people to bleach? For women, I understand they want to be seen as beautiful. But, what will drive a man, a man I say, to bleach? What indeed?
My people, skin bleaching is very dangerous. If you are doing it or know someone who is please encourage him or her to stop. I know we live in an increasingly superficial world. I
know the world view of a beautiful woman tends to look more like Beyonce and Tyra Banks than the average dark woman you see daily.
I know on international catwalks, there are very few representations of the dark skinned woman. And even when there is it tends to be the likes of Alec Weac, who I`m sorry to say does not represent the beautiful dark Afrikan at all. It`s funny. The world will not promote dark-skinned people, but when they do, they pick the ugliest amongst us as the Afrikan look.
No people, we have to change this. We have to redefine what beauty is and not sit passively while fashion houses in Milan and Paris tell us what is beautiful. We can no longer leave the definition of beauty in the hands of international, non-Afrikan movie makers, advertising agencies and music video directors. As Africans we have to accept whatever shade of black we are.
But above all, we need to start looking for the beauty in individuals and not in the colour of their skin. It`s all nonsense to say just because someone is not as light as another, they are not as worthwhile. It`s utter and complete nonsense.
For Africans living outside the continent of Africa, I guess the pressure to look like Beyonce or Tyra is more persistent than those of us here. Right? Wrong. Because these days in Ghana, we too are being slowly bombarded with images of what is considered beautiful. I know young girls who want to look like the characters they watch in these B rate Mexican soaps the TV networks insist on pushing down our throats. Admittedly, apart from the stories I`ve heard about casting for Ghana Films, we do not have the problem in Ghana of only portraying our lighter skinned brothers and sisters. Thankfully we can still turn on our TVs and see all shades of natural beautiful African people. From milk chocolate Nana Ama McBrown (Actress) to dark chocolate Blakofe (the Presenter of Amazing Ghana. By the way whatever happened to that programme. It was actually very good and certainly taught me a lot about Ghana), we can still turn on our TVs and appreciate all shades of black. And that is beautiful.
Skin bleaching is a disease. A mental disease that aims to destroy the black race. O yes, I`m very serious. I mean, how can people hate themselves so much they would want to burn their flesh? The pathetic thing is, no matter how much flesh burning they do, they will never be beautiful. Just look at Michael Jackson. Now tell me truthfully you believe he looks better now than in the "Off The Wall" days yep, you get my point I think? I have yet to see anybody who looks better after bleaching. And no matter what you do, your genes will always remain African. You can burn your flesh all you like, the minute you have a child, believe me, it will be its natural unbleached self.
That reminds me of a family I saw recently. There was an African woman, with a white man and a couple of mixed raced children. O my people come see my Afrikan sister. In an attempt to look like her husband and children, this woman had bleached and burned her flesh to such an extent that I couldn`t help it. I followed her to the toilet and asked her what bleaching cream she used. Initially she tried to deny bleaching, but hey, the eyes don`t lie. Just one look at her and I knew. A further examination of her knuckles, knees, mustache and feet already confirmed this fact.
After flattering her that she was beautiful and I too wanted to use the same cream as her, she admitted to bleaching. Imagine her shock when I then turned around and said "my sister, I know you want to look like your husband and children, but please, stop bleaching. You don`t look nice at all. I don`t know you, I don`t even have the right to say this to you, but please, you look bad. Everybody out there is looking at you with disgust and laughing."
O yes, I told her. And I will continue to tell everyone I come across who is deluded that beauty is all about the colour of the skin. To all skin bleachers, stop it now. You look ugly. To those that have the power to do so, stop the importation, marketing, promotion and sales of skin bleaching products.
To manufacturers, I know you are making tons of money, but please, stop producing these poisons, especially if you too are African. To young ladies like Yaa , don`t even think about it. Skin bleaching is no guarantee you will be considered the most beautiful. And to all the sisters keeping it real .Ayeekoo.
Before I leave, let me remind you, our Creator believes all shades of our black skins are beautiful.
But hey, these are just the reflections of an ordinary Ghanaian woman.
© 2007 AllAfrica, All Rights Reserved
Is skin bleaching in danger of becoming a trend among men?
Lanre Bakare
Guardian Unlimited
September 06, 2011
Lanre Bakare: As dancehall artist Vybz Kartel launches his own range of skin lightening cosmetics, it looks like this controversial fashion could be in danger of spreading beyond women
Bleaching, whitening, lightening. Whatever you call it, the business of cosmetic enhancement to make dark skin look paler continues. Creams, pills and surgical treatments are used across continents by darker-skinned ethnicities hoping for a whiter complexion. But the problem, like most of those thrown up by the cosmetic industry, is often seen as largely as the concern of women.
A Public Radio International article in 2009 talked mainly of "poor Asian women" who were affected by the fashion for skin bleaching, while a blog from the same year titled The Dark Side of Pale used the line "it`s one rule for the men and another for women".
But a press release in my inbox last week showed that the problem may not be divided down gender lines at all. I was shocked to learn that the dancehall artist Vybz Kartel – never one to shy away from a commercial venture – is launching a range of cosmetics this month, including his own brand of skin lightener. It`s something of an (un)natural progression from the musician`s decision earlier this year to lighten his own skin and the launch of his own "cake soap", a traditional Jamaican product intended for white clothes but which is reportedly misused to alter skin colour.
Vybz Kartel has previously explained that his use of skin lightener is purely for style – that he sees it as being no different from women straightening their hair – and in an interview with Rolling Stone magazine he made his feelings on the subject clear: "I have said in a statement that when everyone stops doing all of that shit, we can all live naturally ever after. But until then, fuck you all."
Dr Shirley Ann Tate, senior lecturer in social policy and sociology at the University of Leeds, is not surprised by Kartel`s new image, nor the business venture that goes with it. "There is a very long history of skin bleaching and lightening in Jamaica and I don`t see it as something which is removed from black masculinity," she says. "It`s always been there, but maybe just seen from the outside as something which only women do. The thing about dancehall is that the masculinity on show is very much about posing and style – you could call it metrosexual. [These artists] are men who have an intense interest in style, designer clothes and creating their own look and that is the route Vybz Kartel has taken."
Keysha Davis, editor of Blackhair magazine, raises a good point when she highlights how disturbing it is that skin lightening is now being openly endorsed by an established figure such as Kartel. "I think historically it has been black women who`ve had self-identity issues and so might use those products rather than black men," she says. "To hear that Vybz Kartel is putting out a skin lightening cream is quite disturbing, I feel, and quite sad."
The issue of skin lightening is hardly confined to Jamaica, but the move does highlight the growing trend for young Jamaican men to use lighteners on their skins. The country`s health workers are dealing with increasing numbers of patients coming to them with burnt skin after using black-market products – many of which are imported from west Africa – and Kartel`s move is hardly likely to go down well with the Jamaican government, which ran a campaign called Don`t Kill the Skin in 2007 to raise awareness of the dangers of using skin-lightening products.
Kartel`s skin lightening has also drawn derision from other dancehall artists, such as Mavado, who released the diss track Nuh Bleach Wid Cream in the midst of their feud in 2008.
Davis believes that "the majority of Jamaicans don`t buy into [skin lightening]". Even those who do may not welcome another commercial enterprise by Vybz Kartel. His new cosmetics line, which also includes a fragrance called OH! and a skin-brightening lotion, follows his release of a brand of condoms that were named after the dancehall "daggerin" dance and his own brand of rum. In an interview, Kartel`s former business partner Corey Todd claims there were complaints from customers that the condoms broke, and that the rum was too pricey for most dancehall fans.
© Guardian Unlimited Guardian Newspapers Limited 2011. All rights reserved