Mali: Editorial Says Serval Proof of Africa`s Incapacity To Control Own Destiny
Jeune Afrique
Sunday, February 17, 2013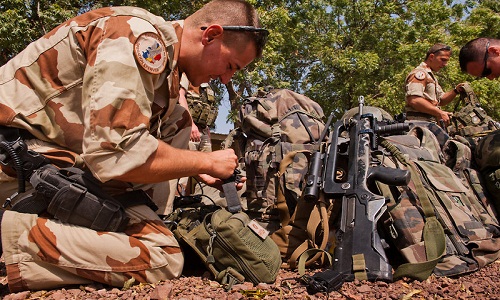 This picture released by the French Army Communications Audiovisual office (ECPAD) shows French soldiers getting ready before boarding to Bamako, the capital from Mali, at Kossei camp in N`Djamena, Chad, Friday, Jan. 11, 2013. (Photo credit: AP/R.Nicolas-Nelson ECPAD)
Editorial by Francois Soudan: "Serval and Us"
Like a whiff of the Harmattan in the dry season, Mali is losing its place as number one newsmaker almost as rapidly as it had succeeded in making the major headlines. News in the country has been relegated to the inside pages of media organs and has almost disappeared from television news. The country had been the scene of a euphoric sequence of events in the course of which French forces had played a role, which is totally new to them in Africa - the role of standing out as a liberation army. Francois Hollande`s solemn and jubilatory visit to Mali marked the end of the first phase of Operation Serval, which turned out to be a great success. The fact that the seventh president under the Fifth Republic paraphrased the country`s founder (General de Gaulle) by allowing himself to be carried away with words like "Timbuktu outraged, Timbuktu torn apart, Timbuktu tormented, but Timbuktu set free," left everyone lost for words. It is time to be in a joyous mood.
With that period having passed, now comes the time for the uncertainties of war. Welcome to the grey area which is infinitely less readable to those in the political and military quarrels of Bamako and the hunt for terrorist remnants in their Tora Bora in the Adrar of Ifoghas. Comes also the time for reproaches directed toward Jeune Afrique, for those who got very angry and disturbed about our coverage of events and the editorial choices we made. The French military command of Operation Serval and that of the Malian army did not appreciate the publication of two shocking photographs, one showing a legionnaire putting on a death mask and the other revealing an old man being dragged around by a soldier. "These are images hedged with conflict, with a strong will to denigrate," they kept on saying to our special envoys before boycotting them... and then changing their minds later. Malian readers even went further: They have been accusing our headlines and our analyses of trying to carry "complacent messages in favor of the Jihadist groups" and add that: "Coming from a pan African media organ, this is unacceptable." With infinitely more serenity, Prof Marc Gentilini, honorary chairperson of the Academie de medicine (Academy of Medecine) and the Red Cross, "former medical officer in Gao, Kidal, Tessalit and Menaka," writes to us saying that "the engagement of French soldiers in Mali, which had for long been reflected on and awaited by many democrats in this country, in France and all over the world, deserves to be treated better" than a "deliberately grotesque" cliché, no matter how significant it might seem.
These remarks made in good faith, which could be interpreted in their form and content should push us to reflect, especially as the editorial board of Jeune Afrique has always been coherent in its absolute condemnation of Islamist terrorism - be it physical, cultural, or societal. But, no doubt, we have not been clear enough as far as the basic problem raised by what should be rightly referred to as a foreign intervention on African soil is concerned. This assessment is simple. We cannot and are not supposed to applaud Operation Serval without also pointing out straight away that it lays bare the fact that Africa is incapable of taking her destiny into her own hands 53 years after independence. This willful trusteeship of a country like Mali was a saving move. It is also an ignominious proof of failure for all those who believe in the self-determination of the continent. Serval, just like Janus, is two-faced: one is a necessary war and the other is a lesser evil. It was, we believe, our duty to say it. Even if we are the only ones to do so.
(Description of Source: Paris Jeune Afrique in French -- Privately owned, independent weekly magazine)
© Compiled and distributed by NTIS, US Dept. of Commerce. All rights reserved.
Iran Commentary Says West Planning `Long-Term` Military Presence in Africa
Hamshahri Online
Sunday, February 17, 2013
Commentary by Vahidreza Na`imi headlined: "The West`s Preparations for Long-Term Military Presence in Africa"
During the past decade, western countries have been engaged in lengthy wars in remote areas. Approximately 10 years have passed since the military coalition`s offensive to Iraq, under the leadership of the United States. The US forces` operation in this country did not end by the year 2010. More than 11 years have also passed since NATO forces entered Afghanistan and tens of thousands of western soldiers are still present there; although according to plan, the presence of western forces in this country shall end within the next two years.
Military intervention by western countries in overthrowing the Libyan dictator Muammar Qadhafi was mainly in the form of airstrikes and concluded with his death. However it now seems that western countries have engaged in other kinds of adventures and although they try to portray these activities as short-term, it is possible that they will take several decades. Nearly three weeks ago, with the excuse that Islamist paramilitary forces had occupied north Mali and were advancing toward the capital Bamako, French forces engaged in a full-fledged war in Mali. These paramilitaries, who are mainly formed of Islamist groups and have become extremely experienced during months of war in Libya, had occupied a large part of Mali.
In the beginning, Paris tried to pretend that this is a short operation that will end in a few weeks. France, which is Mali`s former colonist, has until now been able to obtain promises of help from a number of western powers. Germany, Canada, England and the United States have all given an offer for help and support. In the initial stages, US transportation airplanes cooperated by transferring the French forces. The Economic Community of West African States (ECOWAS) has also said that they will produce a plan for defending Bamako. However, it seems that western countries are not particularly happy about a full-fledged military intervention in Mali that will keep them in a military operation in this part of Africa for years. For this reason, none of them has given a promise to dispatch ground battle forces. One official in the Africa department of the US Department of State told the Associated Press: "French military intervention in Mali will take years." Don (Donald) Yamamoto added: "No one should be under an illusion that this operation will be quick." His remarks are similar to those of David Cameron who said that military operations in Africa may take several decades. He said that the Mali issue requires a reaction that will take years or decades, not months, and we need a reaction that not only is patient, difficult and painful but also intelligent and most importantly needs an iron will. Britain has announced that it will mobilize around 200 soldiers to this country for the purpose of training Malian military, although certain circles have assessed French (presumably a misprint and should read British) aid to be small and insufficient.
On the other hand, the Pentagon has announced a plan that has no meaning other than long-term presence in Africa. The US army wants to create a base for drones in Northwest Africa so that it can increase its monitoring over local groups affiliated to Al-Qa`ida and other Islamist extremists. The Pentagon has said that for now, unarmed airplanes will fly from this base, although it has not rejected the flight of armed planes from this base. If this plan is approved, the location of this base will probably be in Niger. The United States currently has one base in Africa, which is in Djibouti. The people of Mali are hopeful that civil war in this country will end soon but it seems that intervention by western forces in this civil war can be the start of another lengthy international conflict.
(Description of Source: Tehran Hamshahri Online in Persian -- Website of daily owned by Tehran municipality; editorial line shifts to reflect views of mayor  currently conservative Mohammad-Baqer Qalibaf who at times opposes President Ahmadinezhad; founded in 1991; www.hamshahrionline.ir)
© Compiled and distributed by NTIS, US Dept. of Commerce. All rights reserved.
Mali: Report Profiles Iyad Ag Ghali, Leader of Mali`s Ansar Al-Din Group
Al-Sharq al-Awsat Online
Friday, February 15, 2013
Report from Nouakchott by Al-Sheikh Muhammad: "Iyad Ag Ghali, the `Desert Fox.` The Leader of the Ansar al-Din Group in Northern Mali Turned from a Nationlist Leader to a Jihadist Emir"
When Iyad Ag Ghali, the leader of the Islamic Ansar Al-Din group in Northern Mali, launched the Koona battles early last January, attacking Malian soldiers who are being trained by French and European military experts, killing a large number of them, he immediately became the number one target for French Special Forces which entered Malian territory days after the attack to prevent the collapse of the State of Mali, as Paris said.
Ghali, a Malian national, and his comrade Abd-al-Hamid Abu-Zayd (the Emir of the Tariq Bin Ziyad Battalion), led the battles in the town of Diabali and drove the Malian Army out. This forced the French to expand the circle of confrontation with him and his allies. He subsequently disappeared in the desert and fortified himself in the Mountains of Tagharghart in the northernmost extremity of Mali, near the border with Algeria.
This man who is in his fifties has stirred much controversy throughout his life. But many of his countrymen are unanimous that he is a historic leader in the Azawad Province and that he contributed in sparking the rebellion on 28 June 1990 when he attacked the town of Maneka, in northeastern Mali, at the head of the National Movement for the Liberation of Azawad (MNLA) which was established in 1984.
Ghali is short and of stout build. He wears the turban of the Tuareq of the Great Sahara. He commands great awe wherever he goes. He wears African clothes which do not hide his great wealth. Observers describe him as "secretive" and say he rarely speaks at meetings with others.
A Mauritanian analyst interested in jihadist groups in the African Sahil area met Ghali when he was active in the Pakistani Al-Da`wa wal Tabligh group which avoids involvement in controversial issues and advocates unification of the Islamic world and renunciation of violence. "Ghali was kind, affable, and very religious. He inspired awe at meetings but he was secretive and of few words," he said.
Ghali`s varied and unpredictable career started in the mountains near the town of Kidal in northernmost Mali. He was born to an influential family in the Tuareq Ifoghas Tribes which have considerable influence and clout in the region of Azawad (as the Tuareq call northern Mali). Some of Ghali`s friends in his youth speak about a bohemian life filled with music, poetry, and evenings spent talking about politics.
The draught came to severely hit the Sahil and Sahara areas, ending the life of prosperity the Tuareq were accustomed to. Tuareq youths and men left for Libya and some neighboring countries. One of them was Ghali who arrived in the 1980s in Libya to start another chapter in his life in the court of the late Libyan Colonel Mu`ammar al-Qadhafi.
Ghali, who comes from a rich family, received military training in the Green Battalion which Al-Qadhafi formed from among the Tuareq. After he excelled in the training, Colonel Al-Qadhafi chose him among the mission he sent to Lebanon to fight alongside the Palestinians against armed militias and the Israelis.
Some of those who were close to Ghali said his mission in Lebanon was his first real military exposure. He returned from Lebanon in the company of the late Palestinian President Yasir Arafat aboard a French ship. This was the start of the experience of the Tuareq leader with the French Army, an experience which has not ended until today and which was characterized by periods of affinity and aversion capped by the Serval (Wild Cat) French operation.
Years after Ghali returned from Lebanon, Al-Qadhafi involved him in a mission carried out by Libyan units inside Chadian territory to help rebels seeking to topple the regime of former President Husayn Habri. But the French Army foiled that operation.
After all these military adventures, Ghali returned to northern Mali in the early 1990s, where he started to form a rebel force to fight the central Government in Bamako. He was the main figure in that rebellion which lasted for more than 20 years. He fought battles and signed agreements before setting up the Ansar al-Din group last year and proceeding to establish the first Islamic emirate of its type in Azawad.
Even though his people rallied around him, differences began to erupt among his supporters when he signed an agreement in 1991 with the Malian Government. This led to the disintegration of the Azawad movement into three movements. Ghali led the Popular Azawad Movement, which can be considered as the precursor of Ansar al-Din but which had a national orientation. He formed it from thousands of fighters from his tribe, the Ifoghas.
Ghali was the only supporter of the 1992 Tamanrasset agreement. He dissolved the Popular Azawad Movement in 1996 but resumed the rebellion in the "Democratic Coalition Movement for Change" and became its Secretary General. He later signed the Algiers Agreement in 2007.
During that period, Ghali became very close to the central Government in Bamako. He was appointed in November 2007 as councilor in the Malian Consulate in Jeddah, Saudi Arabia. He was deported in 2010 on charges of "suspect relations with Al-Qa`ida."
Ghali returned to the forefront two years later in Ansar al-Din group which he said was a "popular jihadist movement" seeking to apply Islamic sharia in Mali.
The opponents of Ghali believe the mystery which surrounds him was the secret for his remaining on as the historical leader of the rebellion in Azawad, whether as a national leader advocating a patriotic blueprint or a jihadist leader seeking to establish an Islamic emirate. They say that even though Ghali comes from one of the largest and most influential tribes in northern Mali, he needed help against his rivals in order to become the leading figure in Azawad.
In this connection, Abu-Bakr al-Ansari, a Tuareq intellectual and writer, told Al-Sharq al-Awsat that "Ghali`s road to influence in Azawad started in Algeria in 1992 when the Tamanrasset Agreement was signed. Some Algerian Generals created a split between some inhabitants of Kidal and Timbuktu by magnifying the role of small officers and marginalizing the role of Muhammad Ali Al-Ansari, the political leader of the 1992 revolution."
Al-Ansari, who resides in Nouakchott, adds "Ghali started a phase of alliances with Bamako after the Tamanrasset Agreement. He conspired with it against the opponents of the agreement. He launched a war against the Arab Islamic Front for the Liberation of Azawad in which thousands from Al-Arab Al-Barabish Tribe were killed. This made the Arabs living in Timbuktu lose trust in their Tuareq neighbors. Some Arabs consequently opted to ally themselves with Bamako because of fear of Ghali`s brutality."
Al-Ansari continues: "Ghali also fought his personal war against the Tuareq Imghad tribes. This is attributed by some to the personal rivalry he had with Al-Haji Agh Ghamu, an officer in the Malian Army, something which triggered a conflict between the Popular Movement for the Liberation of Azawad under Ghali`s leadership and the Revolutionary Army for the Liberation of Azawad led by Abd-al-Rahman Ghala. But Ghali eventually won the war which claimed many fighters from the two tribes."
There were suspicions about these wars and events which accompanied the rise of Ghali. Al-Ansari says "there were regional quarters that opened the doors for Ghali and removed his rivals. Manu Diak who competed with him fiercely for the leadership in Azawad was killed in 1995. Ibrahim Agh Bahingha was killed late in 2011 in a mysterious traffic accident. Isa Sidi Muhammad, the leader of the Popular Front for the Liberation of Azawad, was marginalized."
One of the sensational chapters in Ghali`s life was about his transformation from a youth thirsty for life`s pleasures to a quiet man very committed to the teachings of Salafi Islam. This started by his refusal to shake hands with women, imposing hijab on his wife, and enforcing sharia in his family milieu. He became one of the leading activists in the Pakistani Al-Da`wa wal Tabligh group. He made advo cacy trips which took him to a number of African countries adjacent to Mali including Mauritania.
But the phase of advocacy was not enough for the man who developed a Salafi-jihadist orientation. His blueprint grew to envisage the establishment of an Islamic emirate applying sharia in Azawad under the banners of Ansar al-Din.
It was during that time that Ghali`s relations began with the militant Islamic groups headed by Al-Qa`ida in the countries of the Islamic Maghreb (AQIM), particularly when AQIM abducted 14 European tourists in 2003. Ghali played a major role in mediating their release, taking advantage in this of his tribal and military influence and a complex network of relations with the militant Islamic groups that had merged socially with the local tribes.
Another aspect of the mediation undertaken by Ghali between AQIM and the Western countries was the fact that he obtained lucrative commissions which increased his wealth and made him one of the richest persons in the region which suffers from poverty and where smuggling of all types flourishes.
In parallel with this, Ghali`s religious orientation grew and his relations with the leaders of the Salafi-jihadist groups developed. He subsequently turned from being an advocate of the nationalist patriotic blueprint to a proponent of establishing an Islamic emirate.
Aslim Ould Salihi, a researcher specializing in the affairs of jihadist groups in the African Sahil, told Al-Sharq al-Awsat "Ghali is a personality that carries weight in Azawad. He started by nationalist blueprints and was one of the leaders of the Tuareq rebellion in 1991. After this he signed a number of agreements. He believes that the Azawad problem can be solved politically. But unfortunately he was disappointed after the latest agreement signed in Algeria in 2007 because the political, economic, and social clauses in that agreement were not implemented even though the clause on making the Tuareq lay down their arms was enforced. So he regarded this agreement as a mere attempt to neutralize the Tuareq and abort their blueprint. He was greatly disappointed."
Ould Salihi adds: "The disappointment felt by Ghali fuelled a strong religious feeling. Everybody knows that 10 years ago he joined the Al-Da`wa wal Tabligh group and undertook advocacy trips on its behalf which took him in 2002 to Nouadhibou in northern Mauritania. Thus Ghali shifted from the nationalist blueprint to the religious blueprint. He established the Ansar al-Din group which enforced Islamic sharia in large areas in Azawad which fell under his control."
Abu-Bakr Al-Ansari says in this connection: "Ghali was a leader of the revolution in Azawad but he sold out and betrayed the nationalist cause. He turned into a tool manipulated by neighboring countries, especially Algeria, in sabotaging the nationalist Azawad blueprint."
Al-Ansari attributes the fact that hundreds of Tuareq fighters joined Ghali`s new project for establishing an Islamic emirate to the fact that "Azawad suffers from difficult economic conditions and the people there suffer from poverty as a result of unemployment, hunger, and ignorance. Thus when a rich person like Ghali comes with plenty of money at his disposal he can buy everybody and turn them into combatants who obey all his orders, especially since he comes from a deep-rooted and influential tribe."
Al-Ansari holds Ghali responsible for the French intervention in northern Ghali. He said that Ghali`s latest actions were the direct causes for the French intervention which Al-Ansari rejects because it tips the scales in favor of the State and undermines the Azawad national cause.
Between the supporters and critics of Ghali, the man continues to be one of the most controversial Tuareq leaders. He managed to have the upper hand in the Islamic emirate established in Azawad for the past 10 months, a period in which Aslam Ould Salihi says Western analysts were unable to brand Ghali as a terrorist,
Ould Salihi adds: "Ghali place d the Western analysts in an unenviable position because no Western nationals were abducted in the regions which fell under his control. On the contrary, he freed a Swiss woman and a Spanish man and returned them to authorities in Ouagadougou and Bamako after they had been abducted. No Western interests have been targeted. Thus he has not committed until now any acts that would make those analysts able to describe him as a terrorist."
(Description of Source: London Al-Sharq al-Awsat Online in Arabic -- Website of influential London-based pan-Arab Saudi daily; editorial line reflects Saudi official stance. URL: http://www.asharqalawsat.com/)
© Compiled and distributed by NTIS, US Dept. of Commerce. All rights reserved.