Park protests reveal extent of "Iranian infiltration into Turkey" – daily
BBC Monitoring European
June 22, 2013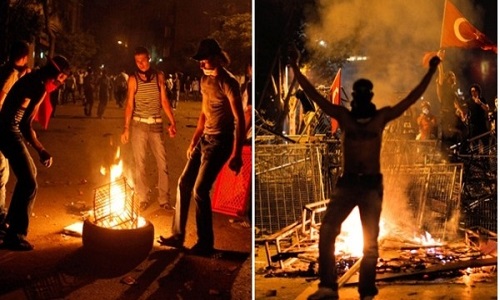 Column by Abdullah Bozkurt: "Iran Plays Subversive Role in Turkey"
Recent protests exposed, among other things, the depth of Iranian infiltration into Turkey as well as major weaknesses in the counterintelligence shield of the Turkish spy agency.
Although the protests started out of environmental concerns over a green space in a central district of Istanbul, they were quickly hijacked by illicit and illegal groups that resorted to violence, vandalism and destruction. This development has revealed a security vulnerability in Turkish society that might be easily exploited by Iranian sleeper cells in Turkey. In fact, that is exactly what had happened in the three-week-long protest waves, during which about a dozen Iranian agents who were trying to turn rallies into violent anti-government demonstrations were caught by the police.
The Iranian secret service usually disguises agents as banking and finance industry officials to bankroll worldwide terror networks, and most of the key members in Iranian-owned banks and their branches abroad are staffed by operatives. Tehran also extensively use spies embedded in the travel and hospitality industry to link up with new recruits and promote Persian and extremist Shi`i ideology through culture and tourism. It provides diplomatic status to some operatives to gain relatively unhindered access to government circles in host countries. The recent events in Turkey have unearthed a little-known aspect of a sinister campaign targeting Turkey where Iranian agents whose identities were blown were using student or refugee status as cover.
When one Iranian national, identified as M.M., was picked up by the police in Ankara during his lead involvement in a violent confrontation with the riot police, the suspect was carrying an asylum applicant card filed with the Turkish Ministry of the Interior. His religion was recorded as Christian and he was supposedly seeking resettlement in a third country. Why would a Christian who claims to be persecuted by the Iranian regime and waiting for repatriation to another country be involved in a host country`s protests against the government? Many red flags were raised during his questioning in police custody, and he was immediately deported to Iran following the Turkish Foreign Ministry`s coordination with the Iranian side. The whole matter was by and large kept from the press in order to prevent a backlash against Iran in the Turkish public and risk a diplomatic brawl between the two neighbours.
This was just one example of how Iranian intelligence has been planting sleeper agents among refugees and asylum seekers who escape from Iran to evade persecution and prosecution in order to have a better life with improved economic conditions. Since it is difficult to distinguish legitimate non-Muslim minority or LGBT (lesbian, gay, bisexual and transgender) people from spies, Iranian intelligence often uses them as a cover to infiltrate Turkey and third countries. I already wrote on how Iranian intelligence operatives smuggled Osama bin Laden`s son-in-law, Sulaiman Abu Ghaith, into Turkey using human trafficking/illegal migration routes back in February to pit Turkey against the US while inviting the wrath of the al-Qaeda terror network towards Turkey. Jordanians saved the day when Abu Ghaith was picked up by the Americans while supposedly he was en route to Kuwait, his native country, from Turkey.
Iran`s attempt to derail an environmental protest and try to turn it into social upheaval as part of the "Turkish Spring" campaign is not surprising, given that Iran provided significant logistical support to the campaign of the terrorist Kurdistan Workers` Party (PKK) in launching large-scale attacks in urban centres in the Southeast of Turkey last year in order to create a sort of "Kurdish Spring" perception for Turkey. Outraged by the Iranian involvement in PKK terror, former Turkish Interior Minister Idris Naim Sahin had to detail publicly how PKK militants were provided shelter, money and safe haven by Iran in the Sehidan camp in its own territory, across from the Semdinli district of the Turkish province of Hakkari. Turkish law enforcement officials believe they have picked up traces of Iran`s fingerprints in a terror attack on the US Embassy in February by the Revolutionary People`s Liberation Party/Front (DHKP/C) in Ankara as well as in twin bombing attacks by DHKP/C-affiliated terror groups in the border town of Reyhanli, where 53 were killed last month. Over the years, Iran has indirectly contracted Syrian intelligence to nurture and nourish these ultra-leftist groups to try to destabilize regional arch-foe Turkey.
When Prime Minister Recep Tayyip Erdogan said on June 12 that the government received credible intelligence on a planned disturbance in Turkey three months ago, he was actually referring to a plot hatched by Iran through Syrian intelligence proxies. The information indicated that there will be a major incident (bombing or assassination of key figures) to pit Turkey`s Alevi Muslim community against Sunnis with the hope that it would lead to sectarian conflict in Turkey. Erdogan admitted that he was not expecting this to be ignited from an environmental protest for which he ridiculed participants as `marauders` at the outset. When the militants from leftist organizations including the DHKP/C escalated protests, Erdogan realized the gravity of the situation and decided to fight back with an equally belligerent and defiant tone. His harsh rhetoric and brinkmanship policy may be a risky proposition considering that Iran has started to gain some ground in the larger Alevi community in Turkey.
It is no secret that Iran has cultivated influence in both Kurdish and leftist terror organizations in Turkey using strains of Alawite Arabs (Nusayri) and Turkish Alevis that long existed in the leadership composition of these terror groups. The larger Alevi community, which is ethnically Turkish and despises Iranian politicized Shi`i ideology, has maintained its distance from Iranian overtures for decades. Although they are disparate groups, Alevis predominantly display secular and liberal characteristics. The Turkish government`s strong position to the Syrian regime led by Alawites and its support for the mainly Sunni opposition seemed to have pushed Alevis closer to the Iranian orbit. The main opposition Republican People`s Party (CHP) and its Alevi leader Kemal Kilicdaroglu`s harsh rebuke towards Erdogan`s policies have also contributed to this shift in the Alevi community. As a result, what seems to be a marginal threat to Turkey`s national security has now turned into a potentially major challenge that can be exploited by Iran to weaken Turkey.
The latest information I picked up from the intelligence community this week indicated that Iranian clerics have been canvassing Alevi neighbourhoods across Turkey. Authorities are especially worried that these clerics posing as mele, an Arabic word used by Kurds in Turkey to refer to highly respected mullahs, may have a secret agenda in the predominantly Kurdish regions of the Southeast. These Iranian clerics aim to build stronger bonds between Anatolian Alevism and Iranian Shi`i ideology, even though there is no resemblance between the two. This is not out of brotherly love or good neighbourly ties. Judging by the revelations from the head of the Turkmen Alevi Bektasi Association, Ozdemir Ozdemir, this week, it is quite a chilling fact that Iran is preparing the groundwork for sectarian war in Turkey. Ozdemir disclosed that more than 700 Alevi dedes, or spiritual leaders, have had meetings with Iran`s Supreme Leader Ali Khamanei as well as commanders of Iran`s Revolutionary Guards over the past three years for what he called a campaign to foment conflict between Alevis and Sunnis in Turkey. He underlined that the recent Gezi Park demonstrations are also part of Iran`s attempts to stir up sectarian agitation in Turkey. He said Iran has set up three associations and one foundation in Turkey that look as if they are Alevi organizations. "But they have nothing to do with Alevi society. What they do is take Alevi dedes to Iran`s city of Qum to use them for their plans," he explained.
All this indicates that the Turkish government should be more vigilant than ever over Iranian activities and hasten the process of addressing Alevi demands, including the recognition of their places of worship (cemevi) and the provision of fair-share subsidies from taxpayers` money. Alevis, who number over 10 million, should be able to establish and train their own clergy and the government should provide financial support for that. At the same time, the Turkish government must talk tough with the Iranian government and make clear that these subversive activities of Iranian intelligence can no longer be tolerated.
Source: Zaman website, Istanbul, in English 22 Jun 13
© 2013 The British Broadcasting Corporation. All Rights Reserved.
Turkish premier "shot himself in the foot" with Gezi attacks – commentary
BBC Monitoring European
June 23, 2013
Article by Cengiz Candar: "Why I Am Against Erdogan"
I am arguing against [Prime Minister] Tayyip Erdogan now for the same reason that I argued for him at the beginning.
Let me say at the outset what I will say at the end: Tayyip Erdogan has lost!
On top of that, he lost after having assumed the "Gezi Park Conqueror" title and "crowning his victory," after mustering thousands of people outside the Istanbul city walls, in Kazlicesme, in other words just when he saw himself and was presenting himself as if he were at his strongest.
What has he lost?
He has lost something that 10 years ago he cared about most: going down in history as someone who is "the helper of the helpless," and "the voice of the voiceless." Unfortunately, from now on, Tayyip Erdogan will be remembered much more for the "police terror" fanned across the country, and mainly in Istanbul in the period between 31 May and 16 June, and particularly from the evening of 16 June to the evening of 17 June, "the spraying of pepper gas inside the Divan Hotel," "the handcuffing of doctors from behind," "a person in Istiklal Street stripping naked and baring his chest in front of a police attack," and "the woman in red fighting the police water cannons."
I say unfortunately, indeed, I really would have preferred not to have a leader who made Turkey take important steps in the recent past go down in history accompanied by these scenes. It is also true that I supported him for many years and gave him a loan. The reactions of "neo-nationalist circles" are therefore continuing still, having turned into "heavy insults" after the latest developments. Some people, referring to the current persecution are not only making allusions by saying "it is not sufficient, but yes," but also talking as much nonsense as to claim that I and people like me are responsible for Erdogan`s "cruelty." While none of this is true, I can see that we have provoked a fairly widespread perception about our support for Tayyip Erdogan.
Of course we supported the "underdog" Tayyip Erdogan. We supported his every step that would advance by one millimeter the initiatives for Turkey`s democratization against the "military tutelage regime." We supported wholeheartedly Turkey being put on track for EU membership -- as the consolidation of democratization. We wanted to incentivize contributions to solving the Kurdish problem. Just for this cause, we spared him our criticism on many subjects.
The source of the unabated anger in some circles toward me, and people like me, is the support we gave Tayyip Erdogan at one period. However, I am against him for the same reason I supported him at the beginning. Let me remind you of the verses by Mehmet Akif, whom he [Erdogan] likes very much:
"I cannot applaud cruelty, I can never like the cruel,
My lungs burn when I see a bleeding wound,
I would be whipped, and whipped again, so that it might heal!
I cannot say, "Never mind. Forget it." I do mind.
I crush, I get crushed, I`ll hold up justice!
I am the enemy of the cruel but the underdog I like..."
"Disproportionate force" has been used in Istanbul, Ankara, and everywhere in the country for days, particularly against young people. If it is used once, it could be a cause for reaction and investigation. However, if it is continuous and reaches a peak like the day before yesterday, it is called "cruelty."
I cannot like cruelty!
They are asking me, do I not see the "Global conspiracy"?
From the first day we started with a "handful of looters," we reached the "interest rate lobby"; it was not enough so we discovered "foreign focal points." These started with "Zello," then reached CNN International and the BBC; that was not enough and it stretched out to an organization in Serbia that is connected to the CIA, and from there to neocon think-tanks in the United States.
I saw how the events started and how they continued. I also saw from the beginning that you did not understand what was happening. Later on I could see that you are talking a lot of nonsense. I have noticed that Tayyip Erdogan`s chemistry has gone wrong. These lines from Can Dundar`s article yesterday titled "Like a police state" confirmed this:
"The details leaked from his meeting with artists before the intervention give away the prime minister`s psychology. When the DISK [Confederation of Revolutionary Trade Unions of Turkey] general secretary said, `This is turning into a sociological issue, do you not understand?` he [Erdogan] stood up and said: `What sociology? Are you going to teach me?` `Enough already, artists, intellectuals, okay. But beware of Allah,` he said in outrage."
As the tents were being taken away and the barricades removed, they took control of Gezi Park with an unprecedented pepper spray attack that was so atrocious that it even penetrated inside the Divan Hotel. Tayyip Erdogan filled Taksim Square and Gezi Park, which, he said, "belongs to the public," Istiklal Street, and all the roads leading to Taksim with police officers. The city center was isolated from the people. Passage from Istanbul`s Asian side to the European side was closed. Police officers were transferred to Istanbul from all around the country. The entrances to the Bosphorus bridges and Mecidiyekoy were blocked by gendarmes.
When every part of Istanbul that makes it what it is has been emptied of people, who cares if Tayyip Erdogan can muster 300,000 people outside Istanbul`s city walls. That is why I wrote, "Even if you muster five times as many people into Kazlicesme and you scream at the top of your voice, it does not make a difference. With this mindset and in this way, the road will lead to fascism."
A fascist regime is not a "military tutelage regime;" fascism is a civil regime. Nor does it have an issue with the ballot box. It comes out of the ballot box, it is won in the ballot box. However, it has nothing to do with "democracy."
Besides, as Semih Idiz reminded us in Taraf yesterday, Bashar al-Asad, too, poured hundreds of thousands into the streets in Damascus in September 2011 "cursing the traitors, foreign focal points behind them, and the Western media."
Mount an unnecessary and merciless attack on Gezi Park; close the center of Istanbul to the public; disconnect the two sides of Istanbul, and having done all this, organize a rally in Kazlicesme by mobilizing all the resources of the state. Thus, the Kazlicesme rally has no value other than being a dangerous show of strength by Tayyip Erdogan. It is dangerous because it has signaled that the color of the regime may change.
Celebrated sociologist Prof. Nilufer Gole, one of the thinkers who are the friendliest toward this regime, wrote the day before yesterday: "The razing of Gezi Park to the ground, the violence used without discriminating between young people, women, children, doctors, and lawyers, the chase all the way to hotel lobbies, and the arrests show that the government has entered a spiral of denial. Turkish democracy has a bad image. The government itself is creating this image. The image of a deaf and cruel government cannot be erased by crowds of people, ballot boxes, or elections."
Tayyip Erdogan has lost because he made Gole write these lines.
Nilufer Gole also said this in her article:
It is June 2013. After experiencing such a period as the last three weeks, could you imagine after all this that Tayyip Erdogan could be elected president in 2014, and what is more, that after being worn out from 11 years of prime ministership, that the person Tayyip Erdogan has become could be elected president twice and rule over this state of Turkey with an "iron fist" until 2024?
Imagine a Tayyip Erdogan that stands up to the whole world, he does not stop at fine-tuning the domestic media but also intimidates the international media, does not recognize the European Parliament, he is ready to fight with whichever country gets in his way. It is inevitable that Turkey will "withdraw into itself" with such a Tayyip Erdogan. Well then, can you imagine having another 11 years ahead of us with such a Tayyip Erdogan?
Do you think there is any chance of Turkey being a role model in its region and in the world when it does not convey the image of a democratic and free country?
In other words, Tayyip Erdogan has shot himself in the foot.
The first conclusion of the "Turkish turmoil" of the past three weeks: Tayyip Erdogan has lost.
Source: Radikal website, Istanbul, in Turkish 18 Jun 13
© 2013 The British Broadcasting Corporation. All Rights Reserved.
Turkish commentary says German press coverage to Gezi protests biased
BBC Monitoring European
June 23, 2013
Commentary by Negahan Alci: "What was discussed at German Foreign Ministry?"
The most interesting news making the headlines yesterday concerned Germany. Turkey`s Ambassador to Berlin Huseyin Avni Karslioglu was summoned to the German Foreign Ministry. In response to this Ankara summoned Germany`s Ambassador to Turkey. Fine, but with tensions running high between both countries, what was said at the meeting in Germany?
I listened to all the details about the meeting from reliable sources of mine in both the German and the Turkish foreign ministries. The message given by Germany to Ambassador Karslioglu was this: "We must not lose our composure and our calm during difficult time. What Minister Bagis is saying is not at all helpful. We ask that you drop the rhetoric and soften the atmosphere."
This message was given in an extremely soft and friendly atmosphere. Sources sending me information from the meeting are saying that the mood in Germany vis-a -vis Turkey has become negative since the Gezi incidents began but as they have seen this could be detrimental to German politics in some places it would be undesirable for tensions between both countries to escalate. Indeed, the announcements made by Bagis after this meeting effectively clearing the path for the EU accession talks so as to lighten the mood occupied an important place in the German press yesterday morning.
Fine, but how are the events that have been taking place since 31 May being reflected there? How is the Gezi affair being treated in Germany?
I keep a close eye on the German media. As a graduate from the Istanbul High School for Boys [a rare exception for a girl and not without controversy] I have a lot of contacts in Germany. Judging by those observations and the information that my sources who told me about the meeting passed on, the situation is like this: The Gezi incidents were shown in Germany out of proportion, and continue to be shown that way. The protests in Brazil are being carried out by far more protestors and at times include police violence that makes ours look like a picnic, but the news from Brazil gets only 1 per cent of the coverage that the news from Turkey does. There are three reasons for this:
1. Turkey is very close to Germany and a very familiar country due to all the migrants. Some anti-Erdogan Turkish circles in Germany want to keep the Gezi incidents firmly in the spotlight. In order to do this they are continually holding demonstrations. However, they are getting carried away in some places. For example, at one demonstration held in front of the diplomatic mission posters of Al-Asad and Hizballah were unfurled. This is not a photograph the German authorities like at all. (And this goes for KGK circles as well. Probably so as not to derail the solution process, the KGK circles in Germany are under orders from Ocalan not to take to the streets.)
2. The elections scheduled for September. Unfortunately, anti-Turk and anti-Turkey sentiment in Germany is playing to the right-wing electorate. That is why Merkel is inclined to use the deteriorating politics with Turkey as campaign material using Gezi as an excuse.
3. There is concern that Germany is going to get a smaller share of the Third Airport and Canal Istanbul projects.
Whether it is for these reasons or others I would not know; I hate conspiracy theories but I am hearing some odd tales from my embassy sources. German journalists touring Turkish neighbourhoods in order to cover the Gezi incidents are refusing to broadcast those Turks they interview who speak favourably of the AKP [Justice and Development Party] and who do not support the protestors, saying they "do not represent Turkey." Turks are also reporting this situation to the embassy. Besides, when you look at the German press you see that only one aspect of the incidents is being covered. The impression is being created that the protestors make up a mass of people much larger than the rest of society, and the prime minister`s rallies are given almost no coverage at all. Are the German journalists doing this because of their own political views or are they acting in accordance with publishing policy? I would not know. But interestingly enough there are no exceptions. The sources I spoke to are saying that a large body among the 3.5 million Turks living in Germany do not support the protests but are keeping silent and that this distorted photograph is starting to upset them. In the end, if that body takes to the streets this is really going to ramp up the tensions in Germany. Naturally, nobody wants this. Therefore, the German authorities are most likely going to start a levelling out and braking manoeuvre in the days ahead.
Enough! Stop targeting Alabora already!
The way that actor Mehmet Ali Alabora was made a target because of the Gezi incidents, given the leading role in conspiracy theories and continuously kept current is extremely unwise, even more so in a country like Turkey. And funny too. Enough! I condemn it!
Teaching physics to Einstein, politics to the prime minister
The prime minister has come under fire since the very first day of the Gezi incidents. Needless to say, these criticisms have different sources and different bases. None of the attacks carried out from a neo-nationalist and fascist perspective have any importance. But every criticism levelled at Erdogan from a libertarian and democrat perspective carries great importance. In order for the government to be more libertarian and more democrat, it needs to be criticized in the strongest of terms.
And indeed, there are people doing just that. Unfortunately, some conservative writers are referring to these sincere liberal criticisms as "A part of the operation; Soros is behind them." This kind of nonsense is genuinely laughable. The increasingly creative conspiracy theories being spouted by the conservatives are from the same handbook that the Kemalists used for years.
Moreover, these conspiracy nuts are funny. Some of the libertarian-democrat intellectuals are trying to teach Erdogan lessons in politics. How funny is that!
You may hate Erdogan`s political ideology but you have to admit that he is a political genius right through to the core. Erdogan is a leader whose "sense of politics" has been tried and tested hundreds of times over the past 35 years, passing every time.
Let us recall: Most recently in the Kurd solution process he was able to "send offside" all those who were raising hell saying, "Erdogan has become more like the MHP [Nationalist Action Party] and is ostracizing the Kurds." On the one hand he was gathering the nationalist-conservative wind in his sails with his hawkish rhetoric while at the same time laying the foundations for great peace with the Kurds. You do not need to have access to classified information in order to understand this. The picture is crystal clear for commentators with a minimum IQ. However, many writers blinded by hubris and their baser natures made laughable analyses. They tried to give Erdogan lessons in politics and unfortunately they flunked out. Even though these writers had a 1 per cent following in society they were able to say, "If he had listened to us Erdogan would have gotten 60 per cent." That is how grave the situation is.
And now the same is happening with respect to Gezi. You can call Erdogan patriarchal, bossy, authoritarian and even totalitarian. I have nothing to say to even the most inflated of these kinds of ideological criticisms. This is all a matter of value perception. But speeches that belittle Erdogan`s well proven political acumen are really stupid. Following the fiascos in the Kurd solution process they should have thought deep and hard and asked, "I wonder what kind of plan Erdogan is hatching; what is he going to do next?" But instead some of them are still trying to give unneeded advice saying, "You do not know, do it this way." From what I can see, the secular segment of society has surrendered to the impression that "the pious types are stupid and have no culture" because they consider themselves ontologically superior to the Islamist segment of society. This bizarre malady is not unique to the neo-nationalists and the left-wingers. It has infected liberal and even conservative writers too. They are like physics teacher Temel [common name in Black Sea, used in many jokes, like Mick or Paddy for Irish jokes] trying to teach physics to Einstein. They are still insisting on their "remedies" even though their diagnoses are always proven wrong. God-willing, the creative writers of the 90s generation are going to fix this "average Turkish writer" issue.
Source: Milliyet website, Istanbul, in Turkish 23 Jun 13
© 2013 The British Broadcasting Corporation. All Rights Reserved.