Qatar emir hands power to son Sheikh Tamim
Ammun News
Tuesday, June 25, 2013

A man prepares to take a picture with his mobile photo of a televised address by Qatar`s Emir Sheik Hamad bin Khalifa Al Thani, in Doha, Qatar,Tuesday, June 25, 2013. Qatar`s ruler said Tuesday he has transferred power to the 33-year-old crown prince in an anticipated move that puts a new generation in charge of the Gulf nation`s vast energy wealth and rising political influence. (AP Photo/Osama Faisal)
DOHA (Reuters) - Qatar`s emir Sheikh Hamad bin Khalifa al-Thani handed power on Tuesday to his son, Crown Prince Sheikh Tamim, taking the rare step for a Gulf Arab ruler of voluntarily ceding power to try to ensure a smooth succession.
But the 61-year-old emir made no immediate mention of the public face of Qatar`s assertive foreign policy, prime minister and foreign minister Sheikh Hamad bin Jassim, a veteran politician who had been expected also to step down.
In a seven-minute speech aired on state television, the emir said it was time for a new generation to take over following his 18 years at the helm of the small, rich state.
"The time has come to open a new page in the journey of our nation that would have a new generation carry the responsibilities ... with their innovative ideas," said Sheikh Hamad, reading a prepared text behind his desk, where Qatar`s deep red and white flag was perched nearby.
"I address you today to inform you that I will transfer power to Sheikh Tamim bin Hamad al-Thani. I am fully confident that he is qualified for the responsibility and is trustworthy."
State television later showed streams of well wishers greeting the outgoing emir and Sheikh Tamim at the royal court.
The emir did not specify when the change would take effect but a Qatari official had said the move, once announced, would take immediate effect.
POLLS POSTPONED
On the eve of the power transfer, Sheikh Hamad issued a decree extending the term of the advisory shura council, in effect indefinitely postponing elections that had been tentatively scheduled for the second half of the year.
The election would have been the first to the Shura Council, 30 of whose 45 members are meant to be elected, with the others appointed by the emir, under a constitution approved in 2003. All the body`s current members are appointed.
Diplomats have said the emir, who overthrew his father in a bloodless coup in 1995, had long planned to abdicate in favour of 33-year-old Crown Prince Sheikh Tamim.
Tuesday was a national holiday in the country where a one-family absolute monarchy has ruled over for more than 130 years. The royal court has invited Qataris to go to swear allegiance to Sheikh Tamim on Tuesday and Wednesday.
Qatar is a small country of 2 million people but is a big exporter of natural gas, a global investment powerhouse and a financial backer of Arab Spring revolts.
In Tehran, an Iranian foreign ministry spokesman said: "Most definitely we will be watching these developments and waiting for more details ... The tranquility and stability in that country and elsewhere in the region is of high importance for the Islamic Republic of Iran."
King Abdullah of Saudi Arabia, the dominant Gulf Arab power, congratulated Sheikh Tamim on his accession, acccording to the official Saudi Press Agency.
British foreign secretary William Hague said in a statement he looked forward to even stronger ties to Qatar.
ELEVATING QATAR`S PROFILE
The emir has elevated Qatar`s global profile through the development of the Al Jazeera television network, as well as its successful bid to host the 2022 soccer World Cup tournament.
Qatari state media said Sheikh Hamad had formally informed family members and top decision makers in the U.S.-allied state of his decision at a meeting in the capital Doha on Monday.
Qatari political analyst Mohammed al-Misfer said he did not expect major changes to foreign policy or domestic plans after the handover, adding that Sheikh Tamim was already involved in running the country under his father`s direction.
Arab and Western diplomats said they understood the motive was the emir`s desire to have a smooth transition to a younger generation. Such a transition would be unusual for Gulf Arab states, where leaders usually die in office.
"As Tamim`s succession is very much the outcome of a longer process rather than the enforced product of any sudden upheaval, there will be less sensitivity attached to the change of leadership than might otherwise be the case," said Gulf expert Kristian Ulrichsen at the Baker Institute for Public Policy.
"If anything, the decision to hand power to a younger generation confirms Qatar as the regional outlier, as a state that does things differently, meaning there is less direct comparison with other Gulf States," he said.
BIG ROLE IN "ARAB SPRING"
Qataris appeared to take the news in their stride.
"We are not surprised. The emir has been introducing his son for a long time. Hopefully, it`s a good step," Khalid Mohammed, a 21-year-old Qatari student said on Monday.
Qatar has played a big role in promoting Arab Spring protests, lending significant support to rebels who toppled and killed Libyan leader Muammar Gaddafi in 2011 and to a continuing uprising against Syrian President Bashar al-Assad.
It has forged strong links with moderate Islamists especially Egypt`s ruling Muslim Brotherhood group. State television showed prominent Sunni cleric Youssef al-Qaradawi, a high profile Egyptian preacher based in Qatar, greeting the outgoing emir and his son.
It has also played host to a delegation of the Afghan Taliban, which opened an office in Doha last week in preparation for expected talks with the United States about how to end a 12-year-old conflict in Afghanistan.
Other political crises and wars that Qatar has tackled include Yemen, Somalia, Lebanon, Darfur and the Palestinian territories, often arranging for peace talks on its own soil to show it can punch above its weight in international diplomacy.
But while he strongly supported Arab Spring revolts abroad, Sheikh Hamad cracked down on dissent in Qatar, where there is no freedom of expression.
In February this year a Qatari poet was jailed for 15 years for criticising the emir and attempting to incite revolt.
(Description of Source: Amman Ammun News in English -- Amman Ammun News in English -- Popular privately owned Jordanian news website, providing independent coverage of domestic issues; URL: http://en.ammonnews.net/)
© Compiled and distributed by NTIS, US Dept. of Commerce. All rights reserved.
Outgoing Qatari emir says "time has come to turn over a new leaf"
BBC Monitoring Middle East
June 25, 2013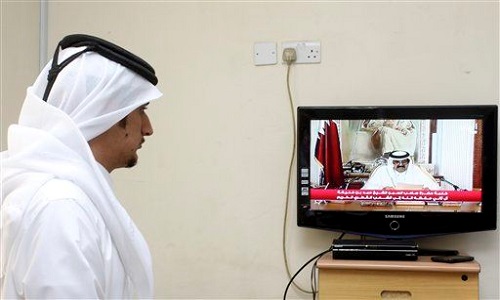 A man watches a televised address by Qatar`s Emir Sheik Hamad bin Khalifa Al Thani, in Doha, Qatar,Tuesday, June 25, 2013. Qatar`s ruler said Tuesday he has transferred power to the 33-year-old crown prince in an anticipated move that puts a new generation in charge of the Gulf nation`s vast energy wealth and rising political influence. (AP Photo/Osama Faisal)
Speech by Qatari emir Shaykh Hamad Bin-Khalifah al-Thani to the people of Qatar on 25 June - live
I address you today as we are getting ready to enter a new era in the history of our homeland.
I wanted to address you first; for you are the people of this blessed land, its protectors, the builders of its renaissance, and the makers of its future.
My fellow countrymen and women, this has always been the faith filling my heart and being as I grow up on the land of Qatar, and since I started to shoulder my responsibilities in serving the homeland and its people.
God knows that I was not after power nor sought to rule for personal motives; yet it has been the homeland that dictated that we usher into a new stage.
Time has come to turn over a new leaf in the history of our homeland, where a new generation takes up the responsibility with its dynamic potentials and creative ideas. Our young people have proven over the past years that they are people of resolve and determination who are capable of grasping the spirit of their time, realizing its necessities profoundly, coping up with its newest, and - above all - contributing by their genuine thoughts and creative initiatives.
Thanks to all this, the words of Ali Bin-Abi-Talib, may God be pleased with him, apply to our reality. He said: "Teach your children other than that what you were taught; for they were created for a time which is other than yours."
My sons and daughters,
You are the treasure of this homeland, the builders of its present, and the holders of the banner of its future. We have always thought well of you and put our hope in you. Your strong fortitude and achievements for the sake of the homeland have proven that you deserve to lead and take our confidence.
My fellow Qataris,
I hope that I have honestly carried out my responsibilities in a way that pleases God first and that I have lived up to the responsibility and confidence you placed in me. All the rightful deeds and actions were carried out by the grace of God, and I am responsible for any mistake. I hope those who will take the responsibility after me will learn from it.
I address you today to declare that I hand over the reins of power to Shaykh Tamim Bin-Hamad al-Thani. And, I am fully confident that he is up to the responsibility, deserves confidence, and that he is capable of shouldering the responsibility and fulfilling the mission. I am firmly convinced that you will be his loyal supporters as you have been to me. The covenants of loyalty and love between the ruler and the people in our homeland run as deep as our genuine heritage and glorious history. I am also certain that Tamim will put the interest and prosperity of the homeland and the wellbeing of Qatari citizens as his top priority.
O children of the homeland, the future is ahead of you as you move to a new era where young leadership carries the banner, puts the aspirations of future generations as its top priority, and tirelessly works to achieve them. The young leadership will seek guidance from God first and the sons of the homeland, and its driving force will come from the experience obtained in running the country and its affairs and the profound knowledge from realities in our region, particularly our Arab world.
And, while I am certain that you are up to the responsibility, I urge you to fear God, seek knowledge, and work hard. Let knowledge be the beacon lighting your way and assisting you in building the future of the homeland in the best way possible. By knowledge, generations capable of shouldering the responsibility emerge and take the right path. Let the hard and honest work be your habit in serving your homeland away from complacency, leniency, or acceptance of existing state of affairs.
Great nations cannot be built for current and future generations without the hard work of their children, and cannot be safeguarded from greediness or threats except by their hard work and sacrifice.
As I am certain that you are aware of your loyalty and your Arab and Muslim identity, I urge you to maintain our cultural and civilized values originating from our religion, our Arabism, and our humanity. We believe that the Arab world is one body, one coherent structure; its strength lies in the strength of all other parts.
I also urge you to adhere to the virtues and righteousness, no matter what or who the days bring along. God rightly said in His Holy Koran: "If they had (only) remained on the (right) Way, We should certainly have bestowed on them Rain in abundance." [Koranic verse, Al-Jin 72:17]. Furthermore, God`s messenger rightly said: "There will always be a group of my nation who fight for the sake of God, not harmed by whomsoever aggresses them, and remain [victorious] until the Day of Judgment."
My fellow countrymen and women,
As I address you today to thank the people of Qatar who were with me the whole way, supported and assisted me in facing the challenges. My goal has always been to provide prosperity, stability, and security. My heart will remain filled with the love of this land and its people, who were the first to catch my sight and imagination. I also would like to express thanks and appreciation to those who have worked with me; they have been always supportive in good and hard times. I would also like to extend my appreciation to our Armed Forces and our brave army for the graceful role they played under my rule. I will not forget the sincere loyalty of my fellow citizens and people, and I pray to God the Almighty to save Qatar, maintain its security and stability, and bestow his visible and invisible blessings on its people. He is our great lord and he responds to our prayers.
Source: Al-Jazeera TV, Doha, in Arabic 0500 gmt 25 Jun 13
© 2013 The British Broadcasting Corporation. All Rights Reserved.
Russian senator says power transition in Qatar aims to prevent Arab Spring
Interfax
Tuesday, June 25, 2013
Russian senator says power transition in Qatar aims to prevent Arab Spring
Chairman of the Russian Federation Council`s International Affairs Committee Mikhail Margelov believes that Emir of Qatar Shaykh Hamad Bin-Khalifah Al Thani`s decision to hand over power to his son is aimed at preventing the Arab Spring in the country, Russian news agency Interfax reported on 25 June.
"Emir of Qatar Shaykh Hamad has officially announced that he will hand over power to 33-year-old Heir Apparent Tamim Bin-Hamad in an effort to prevent the Arab Spring that has no borders," Margelov told Interfax.
He added that there are other precedents for such prudence. Those are kings of Morocco and Jordan who expeditiously launched reforms without waiting for first protests to turn into revolutions similar to those in Egypt, Tunisia and Libya.
As regards the emir of Qatar, it is important to understand how much the young ruler is ready for reforms and whether Qatar will maintain its position towards Syrian developments, Margelov said. "Qatar today is a rich and reputable state with high regional ambitions, and a lot depends on its policy in the Middle East. So, in addition to power, the new emir will inherit not easy challenges inside and outside the country," Margelov was quoted as saying.
(Description of Source: Moscow Interfax in Russian -- Website of nonofficial information agency known for its extensive and detailed reporting on domestic and international issues; URL: http://www.interfax.ru/ )
© Compiled and distributed by NTIS, US Dept. of Commerce. All rights reserved.
Backgrounder on Qatari ruling family`s line of succession
BBC Monitoring Middle East
June 25, 2013
Unattributed report: "Line of Succession: The Al Thani Rule in Qatar"
The Al Thani were among a tribal group, which had settled for a long time at Gebrin oasis in southern Najd before they arrived in Qatar during the early 18th Century. Initially they stayed in the north of the peninsula before moving to Doha in the mid 19th century under the leadership of Mohammad Bin Thani. The family of Al Thani is a branch of the Arab tribe Tamim, whose descent can be traced back to Mudar Bin Nizar. This tribe inhabited the eastern parts of the Arabian Peninsula. The name of Al Thani is derived from that of the family`s ancestor, Thani Bin Mohammad, father of Mohammad Bin Thani, who was the first Shaykh to rule over the Qatar peninsula during the mid 19th century.
Shaykh Muhammad Bin Thani
1850-1878
In 1847, the Al Thani Family moved from Fuwairat, a small coastal community to Doha, under the leadership of Mohammad Bin Thani. He was born in Fuwairat and upon the death of his father, Thani Ibn Mohammad, became the leader of his tribe at Fuwairat. Eventually, Muhammad Bin Thani extended his influence throughout Qatar and strengthened his position externally too by making alliance with Faysal Bin Turki, the Emir of the second Saudi state, who himself paid a visit to Qatar in early 1851.
By the early 1860s Shaykh Muhammad Bin Thani emerged as the most important figure in Qatar and influential in the Arabian Peninsula. On 12 September 1868, he signed a Treaty with Colonel Lewis Pelly, British Resident in the Gulf, which recognised the independence of Qatar.
In 1871, he made a request to the Ottomans at Ala Hasa for protection against any external attack and in the following year Ottoman occupation of Doha had been completed. In the year 1876, he handed over the administrative responsibility to his son Shaykh Jasim Bin Muhammad Bin Thani due to old age. He died in 1878.
Shaykh Jasim Bin Muhammad Al Thani
1876-1913
Shaykh Jasim Bin Muhammad Bin Thani was born around 1825 and took the full responsibility of Qatar in 1876. He was given the Ottoman title of Qaim Maqam (Deputy Governor). Ottoman attempts to increase their power in Qatar by appointing Ottoman officials including administrators at Zubara, Doha, Wakrah and Khor Al Odaid and by establishing a Custom House at Doha and strengthening their garrison there led to open war with Shaykh Jasem in March 1893. In the battle of Wabah, which was fought 15 kilometres west of Doha, the Ottomans were defeated, effectively ensuring Qatar`s autonomy. Shaykh Jasem died in July 1913 and is widely regarded as the founder of modern Qatar.
Shaykh Abdullah Bin Jasim Al Thani
1913-1948
Shaykh Abdullah Bin Jasim Al Thani was born in Doha in 1880 and, on 17 July 1913, became the ruler of Qatar. Britain and the Ottoman Empire accorded their recognition to Shaykh Abdullah and his successors` ruler over the whole of the Qatari Peninsula.
The Ottomans also renounced all their rights to Qatar and, following the outbreak of the First World War, Shaykh Abdullah forced them to abandon Doha in 1915.
On 3 November 1916, Britain, in order to bring Qatar under its Trucial System of Administration, signed a Treaty with Shaykh Abdullah. While Shaykh Abdullah agreed not to enter into any relations with any other power without prior consent of the British Government, Percy Zakhariah Cox, the Political Resident in the Gulf, who signed the Treaty on behalf of his government, guaranteed the protection of Qatar "from all aggression by sea".
Following British recognition of Shaykh Hamad, the second son of Shaykh Abdullah as the Heir Apparent of Qatar, Shaykh Abdullah signed the first Oil Concession Agreement with the Anglo-Persian Oil Company on 17 May 1935.
Accordingly, in October 1938, drilling of the first well in Qatar began and the discovery of oil was made at Dukhan structure in January 1940.
However, the oil wells were capped because of the development of the Second World War. On 30 June 1948, Shaykh Abdullah appointed Shaykh Ali Bin Abdullah Al Thani as the Deputy Ruler following the death of Shaykh Hamad on 27 May 1948. He died on 25 April 1957.
Shaykh Ali Bin Abdullah Al Thani
1948-1960
Shaykh Ali Bin Abdullah Al Thani, who was born around 1896, became the Ruler of Qatar following the abdication of Shaykh Abdullah in favour of him on 20 August 1948. On 31 December 1949, the first shipment of onshore Qatari oil was made from Mesaieed terminal, marking Qatar`s entry into the oil age. On 1 September 1952, a new agreement was signed between him and the Iraq Petroleum Company (later Qatar Petroleum Company), under which Qatar acquired 50 per cent of profits from oil exports. Shaykh Ali took steps to establish an effective administrative system to manage the growing economy. Shaykh Ali abdicated on 24 October 1960, in favour of his son, Shaykh Ahmad Bin Ali Bin Abdullah Al Thani. He died on August 31, 1974
Shaykh Ahmad Bin Ali Al Thani
1960-1972
Shaykh Ahmad Bin Ali Bin Abdullah Al Thani was born around 1920 in Doha, becoming Ruler of Qatar on 24 October 1960. On the same date Shaykh Khalifa Bin Hamad Al Thani was appointed as the Heir Apparent and Deputy Ruler.
Shaykh Ahmad`s rule witnessed the growing economic activities in the country as the result of the discovery of a large number of oil fields in Qatar. With the growth of oil economy, Qatar moved rapidly towards the introduction of modern administrative system. Shaykh Ahmad established the Ministry of Finance in November 1960 and Shaykh Khalifah was appointed as the first Minister of Finance. Following the British Labour Government`s announcement, in January 1968, of its withdrawal from east of Suez, terminating the Treaties of Protection with the Gulf Rulers and their failure to form a Confederation of the Nine Gulf States, Qatar moved forward by forming a cabinet.
On 2 April 1970, the Provisional Constitution for Qatar was promulgated and the first Council of Ministers of the country was formed on 28 May 1970. The independence of Qatar as a sovereign state, terminating the Anglo-Qatari Treaty of 1916, was declared on September 3 1971. Shaykh Ahmad died on 25 November 1977.
Shaykh Khalifa Bin Hamad Al Thani
1972-1995
Shaykh Khalifa Bin Hamad Al Thani was born in Rayyan in 1932, becoming the Ruler of Qatar on 22 February 1972 and starting a process of the reorganizing the government.
The first task of Shaykh Khalifah was to appoint a Foreign Minister and an adviser to advise the Emir in the day-to-day affairs of the country. On 19 April 1972, he amended the Constitution and enlarged the cabinet by appointing more ministers.
Diplomatic relations were also established with a number of the foreign countries at ambassadorial level. In the middle of 1991, production of gas in the Qatar North Field, the world`s largest single field of non-associated gas commenced, which has proven reserves of non associated gas of around 250 trillion cubic feet and probable reserves of 500 trillion cubic feet. While the search for finding more oil deposits in Qatar continued, Qatar built an industrial base in order to reduce dependence on the oil sector. In June 1995, the administration of Qatar was transferred to the Shaykh Hamad Bin Khalifa Bin Hamad Al Thani.
Shaykh Hamad Bin Khalifa Bin Hamad Al Thani
1995-
Shaykh Hamad Bin Khalifa Al Thani became the new Emir of the State of Qatar on 26 June 1995. Shaykh Hamad was acclaimed Crown Prince in 1977 and at the same time was appointed Minister of Defence.
In the early 1980`s he led the Supreme Planning Council, which sets Qatar`s basic economic and social policies. Since 1992, Shaykh Hamad has selected Qatar`s cabinet and been responsible for administering the country`s day-to-day affairs. He has also led the development of Qatar`s oil and natural gas resources. He was born in 1952, began his education in Qatar and attended Sandhurst Military Academy in England.
A keen sportsman and an accomplished diver, Shaykh Hamad has played an active role in promoting and developing athletics in Qatar. His activism has enhanced the country`s involvement and performance in a number of international competitions, including: winning an Olympic medal in track and field; hosting a wide variety of international sporting events such as the GCC, Asian and World Youth soccer championships; and initiating the Qatar Open Tennis Championship which has grown to become one of two premier tennis competitions in the Middle East. He is credited with expanding Qatar`s influence on the global stage.
Source: Gulf News website, Dubai, in English 24 Jun 13
© 2013 The British Broadcasting Corporation. All Rights Reserved.