Minhaj-ul-Quran recognised by UN
Asian Image
August 08, 2011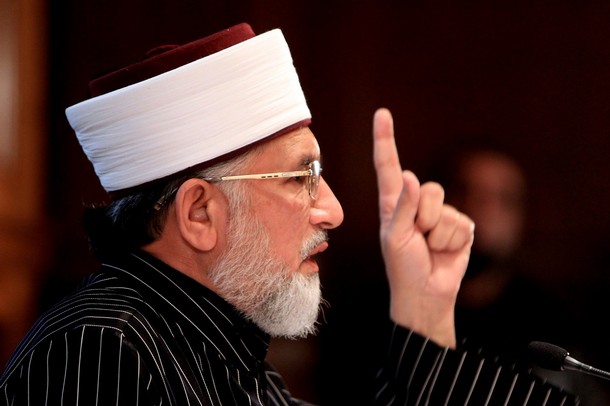 LONDON, ENGLAND - MARCH 02: Islamic Scholar and spiritual leader Shaykh-ul-Islam Dr Muhammad Tahir-ul Qadri holds a book as he delivers a terrorism Fatwa at the Institution of Mechanical Engineers on March 2, 2010 in London, England. The comprehensive 600 page Fatwa, or religious ruling, is set to send a clear meassage to the Muslim world condemning extremism, suicide bombing and terrorism
A Muslim organisation has been formally recognized by the United Nations.
The Minhaj-ul-Quran International already has the appreciation of the British Prime Minister David Cameron and Archbishop of Canterbury Dr Rowan Williams. And now the Economic and Social Council (ECOSOC) has formally granted a `Special Consultative Status` to the organisation.
Minhaj-ul-Quran International is founded by the prominent authority on Islam who made headlines for his stance against terrorism, Dr Muhammad Tahir-ul-Qadri.
It is an international organization working to promote peace, tolerance, interfaith harmony and education, tackle extremism and terrorism, engage with young Muslims for religious moderation, promote women`s rights, development and empowerment, and provide social welfare and promotion of human rights. Not too long ago the Dean of Royal Air Force College Dr Joel Hayward was appointed its Strategic Policy Adviser.
Minhaj-ul-Quran International was recommended by the Committee on NGOs at its 2011 regular session and formally recognized during the UN Annual session.
Commenting on this news, a spokesman of Minhaj-ul-Quran said, "We are indeed delighted to have been granted a Special Consultative Status for our expertise in religious moderation, peace and reconciliation, human and women rights.
"We will utilize this opportunity to present the true teachings of Islam based on peace, love and tolerance to the nation states and consult the UN committees accordingly to our vast knowledge to tackle various problems we are facing today".
Minhaj-ul-Quran International is hosting one of the biggest events on the September 24 at the Wembley Arena to highlight the true teachings of the Prophet Muhammad at an event "Peace for Humanity Conference" which has the support of the Prime Minister David Cameron and various other leading figures and organisation.
© Copyright 2011 Newsquest Digital Media
`Follow the Prophet, don`t follow Osama`
TODAY (Singapore)
August 11, 2010
COVENTRY — "Follow the Prophet Muhammad, don`t follow bin Laden!" That was the message from an anti-terrorism summer camp led by a top scholar which attracted hundreds of young British Muslims this week.
Al Hidayah (The Guidance) was led by Dr Muhammad Tahir-ul-Qadri, who earlier this year issued a fatwa, or religious ruling, against terrorism.
His message to the roughly 1,300 people attending the three-day event on a university campus in Coventry, central England, was clear — terrorism is anti-Islamic.
And it was welcomed by members of the British Muslim community, which has been in the spotlight since the July 7, 2005 suicide attacks on London`s public transport system that killed 52 people, plus the four young British Muslim extremists who blew themselves up.
"The thing he said about terrorism is a big thing to say," said Ms Anam Nazir, a young woman who attended the event. "I`m from Pakistan and I have never seen any scholar say things like that in the media because they`re too scared... he`s brave."
The event, which ended on Monday, cost about £200 ($428) per participant. On the agenda were lectures about issues faced by Muslims living in the West, such as terrorism, suicide bombing and integration as well as music and sports.
For many attendees, one highlight was the opening speech by Dr Tahir-ul-Qadri, the Canadian-based founder of the moderate Islamic NGO, Minhaj-ul-Quran International, during which he spoke out against Al Qaeda leader Osama bin Laden.
Afterwards, Dr Tahir-ul-Qadri said Islam states that followers can only voice disagreements with laws in a peaceful manner, and that it was a religion that preached integration.
According to Islamic law "these countries that protect your life and your wealth and your honour... are peaceful countries so you`re not allowed to become terrorists against these countries and these societies", he said.
"This is the commandment of the Holy Prophet and Islam and Allah, to be integrated in the society where you`re living."
Mr Naseem, a young man attending the event who runs a hairdressing business, said the summer camp would help him to explain the true nature of Islam to his customers from all backgrounds.
© 2010. MediaCorp Press Ltd.
FOUNDER President of Minhaj-ul-Quran International (MQI) Dr Tahirul...
Staff Reporter
Plus News Pakistan
May 14, 2010
Lahore: FOUNDER President of Minhaj-ul-Quran International (MQI) Dr Tahirul Qadri has said that showing the true face of Islam to the world is the greatest Jihad in an age when Islam is being discredited and its teachings brought into disrepute.
The scourge of lawlessness, economic bankruptcy and political instability is the result of our negligence of the teachings of Allah and His Prophet (PBUH) and we ignored the Dawah, he said while speaking via phone from London at the monthly spiritual gathering of Gosh-a-Durood at MQI secretariat on Thursday.
He said if Pakistani nation wanted to see their country progress, it would have to use its power of ballot correctly. This is the tool by which the nation can have pious and capable leadership. He said it was the divine principle that Allah Almighty does not subject the entire nation to torment if some of its people suffer from evil. However, if the evil becomes rampant and no one comes forward to stem its onward rush, different kinds of sufferings come to the society. One form of the torment is the superimposition of dishonest, incompetent and characterless leadership on the people. To top it all, collective awareness of such a nation is snatched away.
Dr Qadri said the nation continues to complain about their ill fate but did not review its conduct.
In this age, people make fun of those who act upon the religion. He said that if we reviewed ourselves with a corrective mindset, things would get better. He urged the youth to play their role in that regard for future of the country and Muslim Umma.
© 2010. Plus Media Solutions Pakistan
`Ideas are the best` weapons
Oakland Ross
The Toronto Star
August 12, 2009
Islamic scholar launches `intellectual war` on terrorism with sermons on peace and tolerance
Mohammed Tahir ul-Qadri is on the phone, talking about war, but he is not referring to guns.
"I don`t know how to use a pistol," admits the Pakistani-born Islamic scholar, who is in Birmingham, England, at the moment, though he spends roughly 10 months a year in Canada, his adopted home for the past several years. "If you put a pistol in my hand, I wouldn`t know how to use it."
The 58-year-old spiritual leader does know how to use words and ideas, however, and he is recruiting them both in the cause of peace.
"I have, you can say, announced an intellectual and spiritual war against extremism and terrorism. I believe this is the time to stand up for moderate Islamic scholars who believe in peace."
Forget for now the lurid images of hatred and bloodshed that have dominated Western perceptions of Islam in recent years, and lend an ear to this voluble, bespectacled Canadian grandfather, who is at the forefront of what some might call a renaissance of moderate Islam, preaching a doctrine of inclusion and tolerance.
"He is definitely a scholar who should be highlighted," says Asad Dean, a Muslim community organizer in Toronto. "He has a fantastic relationship with all the communities."
In their struggle for the hearts and minds of the world`s 1.4 billion Muslims, Qadri and other like-minded clerics are squaring off against ruthless organizations, such as the Taliban and Al Qaeda, which present a very different facet of Islam, one that celebrates violence while rejecting any prospect of accommodation with the West.
The welfare, livelihood and dreams of tens of millions of people around the globe depend on which side triumphs in this battle of words and ideas, a battle that is also a contest of military might - in Afghanistan, Pakistan and Iraq.
Qadri is far from alone in this fight.
Partly in response to U.S. President Barack Obama`s recent opening to the Muslim world, moderate Islamic clerics in many lands have been emboldened to speak out against those who traffic in the weapons of hate.
"Ideas are the best arms," Qadri says. "Societies should be armed with better ideas.
"To me, the ideal society in the world is Canadian society," he says. "We believe in the letter and spirit of multiculturalism."
Qadri has no patience with violent extremists who claim to represent his faith.
Lately, it is Osama bin Laden and his ilk who have transfixed the attention of the West, but Qadri regards them as exceptions - traitors to Islam - who have achieved an influence out of proportion to their numbers.
In large measure, he holds the news media responsible for presenting a distorted picture of Islam, one that depicts its adherents as fist-waving advocates of hate.
"Millions and millions of Muslim people - more than a billion - are living a peaceful life," he says, "but their life does not create news."
Violence, of course, does create news, as do tyranny and intolerance.
"They make women stay in their homes," he says of Muslim extremists. "They destroy girls` schools. This is against Islam, totally wrong. This has created a very bad image."
Qadri, who has served for a time as a member of Pakistan`s National Assembly, has spent years promoting interfaith dialogue, largely through Minhaj-ul-Quran International, a non-governmental organization he founded in 1980 and still heads.
Qadri, who will return to Canada early next month, lives near Hamilton, where he devotes himself to writing about Islam. He says he is determined to change the negative images now associated with his faith, while also stopping radical Islam in its tracks.
It`s a tall order but an urgent one.
"We want a secure future for everybody," he says. "I speak of the human race."
©Copyright 2009 The Toronto Star
Pakistani Cleric Ul-Qadri Tells Al-Sharq al-Awsat: Terrorists Will Go to Hell
Al-Sharq al-Awsat Online
Tuesday, March 9, 2010
Interview with Dr Muhammad Tahir ul-Qadri, conducted by Muhammad al-Shafi`i; date and place not given: `Ul-Qadri: Terrorists are Enemies of Islam"
London, Asharq Al-Awsat-Dr. Muhammad Tahir ul-Qadri is the Pakistani Islamic scholar who recently made headlines with the publication of his 600-page fatwa prohibiting suicide bombing. Ul-Qadri is one of Pakistan`s most prominent clerics, and he believes that his fatwa represents a complete theological rebuttal of every argument used by Al Qaeda and other terrorist organizations. In his fatwa, Dr. ul-Qadri asserts that terrorists do not go to heaven but instead are bound for hell, and he utilizes Quranic references, hadith, and scholarly interpretations to reinforce his opinion. Dr. ul-Qadri told Asharq Al-Awsat that he hopes his fatwa will have an affect on the ground and prevent Muslim youth from becoming brainwashed by terrorist ideology.
Ul-Qadri is the founder of the Minhaj-ul-Qur`an International (MQI) which has branches in more than 90 countries around the world and which works to promote peace and harmony between communities. Dr. Tahir ul-Qadri is also the founder of the Minhaj Welfare Foundation and the Minhaj International University. Dr. ul-Qadri has published a vast number of Islamic scholarly texts, and he is well known for being a promoter of inter-faith dialogue and a strong critic of Al Qaeda and Osama Bin Laden.
The following is the text of the interview:
(Asharq Al-Awsat) Have you previously issued any fatwas against terrorism?
(Ul-Qadri) I have written 1000 books, 400 books have already been published about one dozen of those books I have written on this particular subject. The first book that I wrote was on this subject and that was in 1995 and it was from the standpoint of human rights. In the first question in the discussion (section) of this book which was published in February 1995, I wrote that the killing of Muslims and non-Muslims in terrorist operations is totally prohibited, and then I quoted about 200 pages on this particular subject. This was in 1995, and soon after 9-11 I wrote this book on human rights; it is called Muqaddima as-Sira and is on the pattern of Muqaddima Ibn Khaldun and I included all of these discussions in this book which is made up of two volumes. I then wrote my second book which was published in 2004 and called Human Rights in Islam. Two thirds of this book is on this particular subject, but it was not in the form of fatwa it was just a research book about human rights and non-Muslims rights and property rights (in Islam).
(Asharq Al-Awsat) Is there a particular reason behind the timing of your issuance of this fatwa prohibiting suicide operations?
(Ul-Qadri) The reason that I issued a fatwa at this particular time is because terrorism has become stronger in Pakistan over the past year, and they have begun slaughtering people like sacrificial animals. Some eye-witnesses have even said that they have unearthed the bodies of people that were killed and hung from trees for days...this was done in Sawat (in Pakistan) where many people were slaughtered. They then started targeting mosques on Friday, and this happened in Karachi, not to mention the Army Mosque in Islamabad, and also (mosques in) Rawalpindi, Peshawar, Kohat, and many other places.
(Asharq Al-Awsat) What do you think about the call for dialogue with the Taliban in order to calm the situation and restore security and stability to the country?
(Ul-Qadri) When such (terrorist) activities began targeting the people praying, first many ulema and scholars and some political leaders went for a dialogue with them (the terrorists) in Sawat...the Pakistani government went for dialogue, but the process stalled, because they (the terrorists) did not act on the basis that they were in a condition of dialogue. Therefore they returned to attacking mosques and schools, and everything was closed, and the same killing resumed.
(Asharq Al-Awsat) Why are religious scholars in Pakistan hesitant about condemning terrorism or terrorist groups?
(Ul-Qadri) I saw many scholars silent on this subject, and they were merely demanding that this military operati on be stopped. They were not ready to condemn the terrorists for their terrorist activity. Secondly, if they were asked why they refused to condemn the terrorists, they would try to drag the subject to other issues; they were not interested in addressing this.
Some ulema condemned the acts of terrorists, but these were merely condemnations, they were decisions of one of two pages along with the signatures of hundreds of ulema, but they did not contain any evidence or (citation of) authorities on which grounds this condemnation should be based. There no Quranic or hadith references to convince the brainwashed youth.
(Asharq Al-Awsat) Are the political scholars in Pakistan afraid of violence from Al Qaeda or the Taliban? Could this be a factor in their reluctance to issue condemnations?
(Ul-Qadri) One reason is that many of the scholars are perhaps scared that if anybody declares any decree of fatwa, he is murdered. Over the last twenty years perhaps more than sixty ulema have been murdered either as a result of sectarian terrorism or during the present wave of terrorism. Hassan Ilahi al-Zahir was murdered, and until today nobody knows who was responsible for this. Recently, Dr. Sur-Firas al-Naeimi gave a very small verbal condemnation of terrorism, and he was murdered by a suicide bomber at his madrassa.
Therefore one reason is that they are scared, because there is no protection in Pakistan for anybody. Second is the political reason, because all of these terrorists originate from the North West Frontier Province (NWFP); from Sawat, from Peshawar, from Waziristan, and most of the ulema have political constituencies in that region. Therefore they find themselves needing to win the votes of the residents of this area...so they have vested political interests. Therefore if they issue a verdict (against terrorism) they issue it with ifs and buts, or with conditions and excuses, and this confuses the youth. Therefore I thought that there should be a fatwa without any conditions and excuses, but with absolute condemnation.
(Asharq Al-Awsat) How would you describe the Al Qaeda and Taliban leaders and their ideologues that push the youth to commit suicide operations?
(Ul-Qadri) These are the ones who brainwash the youth, until they carry out suicide bombings believing that this is jihad. They are the Kharijites of today, according to the hadith the Kharijites "are the dogs of hellfire" because they diverge from the true path and bring division amongst the Muslim community. They believe that this is a kind of jihad and that they will go to heaven, but they will not go to heaven.
These young suicide bombers have been brainwashed, they believe they will become heroes of the ummah, but this is not true at all, they will become heroes of hell, and they will be commemorated there. They are not going to heaven, they are going to hellfire.
(Asharq Al-Awsat) What about countries like Iraq and Afghanistan? Does this fatwa apply to suicide attacks in these countries?
(Ul-Qadri) This is different. When there is warfare in any country, and you are fighting in a battlefield where everybody is killing one another, then everything is permissible during warfare. However even during warfare there are hadith narrated in Sahih Bukhari and Sahih Muslim that confirm that during warfare you cannot kill women, children, or old people; this is haram. You (also) cannot kill their priests, their animals, burn their trees, destroy their property, or kill their farmers; this is the Hadith of the holy prophet (pbuh) prior to the battle of Tabouk. The Quranic verse is also clear, and states "Fight in the cause of Allah those who fight you, but do not transgress limits; for Allah loveth not transgressors. (Surat Al-Baqara; Verse 190)"
This is the Sunnah of our Holy Prophet that is for all mankind. Islam is a great religion, but look at the unfortunate situation that we find ourselves in, people are losing their lives in the mosques and on the streets, they are being killed sleeping in their houses, they are being killed in the markets; the women, the aged, the children, so there is no justification (for this). These terrorists of Al Qaeda and the Taliban are tarnishing the image of Islam with their indiscriminate killing of innocent people in Pakistan, Saudi Arabia, Afghanistan, Iraq, New York, London, and Madrid.
(Asharq Al-Awsat) Were you in contact with any scholars and sheikhs in the Arab region before issuing your fatwa?
(Ul-Qadri) I am in contact with them almost continually, along with my students, thank God, in all areas of the Arab world.
(Asharq Al-Awsat) Every day we are seeing suicide operations being carried out against the Americans, so how can anybody justify this?
(Ul-Qadri) Whenever a suicide bomber carries out an operation that results in the death of innocent people then this is prohibited and totally haram. Islamic teachings say that it is better to leave 99 sinful people than kill one innocent person, and as the Holy Quran says "whosoever killeth a human being for other than manslaughter or corruption in the earth, it shall be as if he had killed all mankind (Surat al-Maeda; Verse 32)." This verse reveals two things, killing of a person is a sin, it is haram, and considering this killing lawful, this is blasphemy.
(Asharq Al-Awsat) Al Qaeda and other terrorist groups brainwash the youth saying that if they undertake suicide operations they will go to heaven where they will have 72 virgins, is this true?
(Ul-Qadri) Absolutely not! Absolutely not! This is rubbish!
(Asharq Al-Awsat) Where are they going then?
(Ul-Qadri) They are going to hell. They are going to hell, because they are killing human beings, they are killing women, children, old people. They kill the innocent, non-combatants, and so they are going to hell. The prophet peace be upon him said that "whoever kills a person who has a truce with the Muslims will never smell the fragrance of Paradise" while in another hadith the Prophet confirmed they would go to hell.
(Asharq Al-Awsat) Do you believe your fatwa will have an effect in Pakistan, on the Taliban?
(Ul-Qadri) Let me create a distinction. There are three kinds of people that you can consider to be on the extremist terrorist side. Firstly there are the extremist leaders. The second category are those who are 100 percent brainwashed; they have no ability to understand, they are not open to reason, or they are in a situation where no book can reach them. I would exclude these two categories of people. Next are the thousands of youth who have not yet reached this point, but who are already proceeding along this path, and they have the potential to become extremists and terrorists. These youths number in the thousands, they are much larger in number (than the previous two categories) and they will definitely be affected by this fatwa, because it is aimed at them. They will hear about it through the media, and they may also be aware of my name.
The majority of these youth belong to different countries, and they aware that I never talk without authority. I never say a single thing without the authority of the Quran, the Sunnah, or the authority of the great imams. So they will be obliged to read it. We are going to prepare DVDs and online video recordings (of this fatwa), and they will read the Quranic verses and the tafsir (Quranic interpretation) and the hadith and the great authorities, and they will definitely have to change their minds. They will discover that what they were taught is a different story, and this (fatwa) is an absolutely different teaching. This will create doubt in their mind and they will be obliged to read this again and again and I hope - God willing - that Almighty God will grant them wisdom.
(Asharq Al-Awsat) How effectively do you believe a fatwa can influence the situation on the ground?
(Ul-Qadri) It can influence the potential extremists and terrorists. They will be influenced by the fatwa when they read or listen to it, because they are Muslims , and there is a room to understand what the Quran, or the words of the great imams like Sheikh Ibn Baz or al-Albani or Sheikh al-Islam Ibn Tammiyah. However they were tricked into listening to al-Zawahiri and Bin Laden and the Kharijites of today, and it is the role of imams and scholars to reveal the "deviant ideologies." They have only been listening to one side of the story, and I am sure they were never taught that killing innocents leads to hell. When they come across the dozens of hadiths (to this effect) they will be shocked; so this is how we will change their minds.
They are confused whether their acts of terrorism and killing people is right or wrong, they are stuck in the middle path, so when they read (this fatwa) the concept of terrorism will become clear to them and they will be able to differentiate between the right way and wrong way of defending their rights.
Islam suggests peaceful means of protest, and regime change. I think the more (such fatwas) are available to the people, the more it will be able to gradually change the situation on the ground.
(Asharq Al-Awsat) How would you describe the terrorist ideologues and leaders?
(Ul-Qadri) I will describe them categorically, and according to Sheikh al-Islam Ibn Tammiyah, who said that they were the "Kharijites of today." The Holy Prophet said that they will continue to emerge in my ummah throughout history, their presence is continuous, and the last of them will emerge with the Masih ad-Dajjal (false Messiah). They are not going to heaven, they are going to hellfire.
(Description of Source: London Al-Sharq al-Awsat Online in English -- Website of influential London-based pan-Arab Saudi daily; editorial line reflects Saudi official stance. URL: http://www.asharq-e.com/ )
© Compiled and distributed by NTIS, US Dept. of Commerce. All rights reserved.