Tournament gives team ticket to freedom
By Gilbert Wandera
Standard Digital
Thursday, December 06 2012
On Monday night, 17 players and the doctor of the Eritrean national football team disappeared from their hotel room a few hours before they were scheduled to depart Kampala for Asmara on Tuesday.
The team had just been bundled out of the on-going regional senior challenge cup in Uganda.
According to reports from Uganda, only two members of the Eritrean squad could be traced in the team`s hotel in an incident that has left the regional body Council for East and Central Football Association (Cecafa) officials and Ugandan authorities furious.
According to the association`s secretary general, Nicholas Musonye, the Ugandan security agencies are searching for the missing players.
This is not the first time that Eritrea`s national team players have taken off after participating in a regional competition.
In 2009, more than ten players disappeared in Nairobi and later sought asylum with the United Nations High Commission for Refugees.
The players missed their flight, leaving only the coach and one other official to make the return journey.
Last year, players turning out for Eritrean club Red Sea disappeared in Tanzania during a regional club tournament and in 2006 some 12 Eritrean players also took off after playing in various competitions in Nairobi.
Those interviewed in the past about why they ran away said the living conditions back home are so harsh that when they get a chance to take off, they take it with gusto.
Caged animals
They allege that they live like caged animals in Eritrea.
In 2009, the BBC quoted an Eritrean refugee, Habtu Zere Maram who said political problems in the country of 3.5 million people made him take off.
"It`s like the Middle Ages. Now we are in the 21st Century, how can we live like this? You can`t speak, there is no freedom, you cannot say whatever you want to say. I dreamt of leaving, because I want to live free. Most of the Eritrean people think the same thing," Maram, who was among a group of refugees who crossed into Sudan, said then.
A report by the refugee agency, UNHCR, estimates that every month about 1,800 Eritreans cross their border into Eastern Sudan.
And according to the Human Rights Watch, in early 2011 some 220,000 Eritreans had fled their country. That is five per cent of the population.
The BBC report cites several reasons for the large number of Eritrean citizens opting to be refugees.
Majority do it in the hope of finding their way to Europe where they are promised a better life. There are direct flights to Europe from Eritrea and the best option for those wishing to escape is to do it from other neighbouring countries with flight to European capitals.
They also run away from the dreaded Eritrean national service. Every able-bodied Eritrean is required to serve in the military for at least one and half years but this period can be extended indefinitely.
Military training
At the national service, citizens receive six months of military training and the balance is spent working on national reconstruction projects.
During the training, students, both male and female, are required to attend the Sawa Training Centre to complete the final year of their secondary education, which is integrated with their military service.
If a student does not attend this period of training, he or she will not be allowed to attend university — or even get a job as proof of military training is required before one is hired.
Those who are forced to continue serving in the military earn paltry salaries ranging from Sh500 to Sh2,100 per month.
One escapee said of the service in an interview: "You don`t have enough to eat. I am a young person, I must eat a lot. How can you serve there? Even if you have a desire to live in Eritrea... well actually, you can`t desire to live there."
The luck of private media in the country has also curtailed freedom of speech, making those dissatisfied by the way the country is governed opt to leave by whatever means.
The Eritrean government banned all private media in 2001 in the guise of protecting national security. Internet connectivity is very slow and limited with less than 300,000 people connected.
The country has been ranked among the worst to work in for journalists owing to the many instances of arrests and deaths of media people working there.
Officials: Eritrean national team players granted asylum in Uganda
dpa International Service in English
December 06, 2012
Kampala (dpa) - Seventeen players from the Eritrea national team who absconded during a regional football tournament in Uganda have been granted asylum there after complaining that they run away from home due to persecution and forced military service, officials said.
"They sought asylum and it has been given to them. They are with us now and we are handling the issue with the United Nations High Commissioner for refugees," Uganda`s commissioner for refugees, David Kazungu told dpa.
Police had been hunting for 18 Eritreans - 17 players and a team official - who disappeared in the suburbs of the capital Kampala on Saturday after the team was eliminated from the regional CECAFA Cup tournament after the group stage.
"They have told us that they are running away from forced conscription, governance issues and persecution," Kazungu said.
Members of Eritrea`s national team have in the past defected during competitions outside the country.
The Horn of Africa nation has one of the World`s most repressive regimes which does not tolerate dissent, freedom of speech, multi-party democracy and religion. It`s citizens often suffer arbitrary detention, forced conscription and torture.
© Copyright 2012. dpa Deutsche Presse-Agentur
A dozen `missing` African athletes could be seeking new lives in Britain
The Associated Press
Victoria Times Colonist
August 16, 2012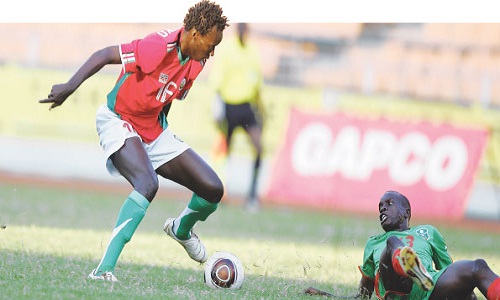 Thousands of Olympians have returned to their homelands with the end of the London Games, but more than a dozen competitors have not.
Even before the closing ceremony, some athletes from impoverished or conflict-ridden African nations, including Cameroon, Eritrea, Guinea and the Ivory Coast, had been reported missing from the athletes` village.
The London Games are not the first time such reports have surfaced: There is a well-established pattern of athletes trying to use international competitions in foreign countries as springboards to a better life.
Athletes attending the London Olympics have the legal right to stay in Britain until November under the terms of their visas, but one of them has already declared that he intends to seek political asylum in Britain.
"I still very much love my country and it`s the harsh conditions and lack of basic human rights which has compelled me to seek asylum," Eritrean steeplechase runner Weynay Ghebresilasie, 18, told The Guardian in an interview published Wednesday.
Three of his fellow Eritrean teammates have also quietly sought asylum.
© Copyright 2012 Victoria Times Colonist
INTERVIEW
Eritrea says refugees not fleeing political repression
By Jeremy Clarke
January 27, 2010
ASMARA, Jan 27 (Reuters) - Eritrea said on Wednesday the thousands of people who leave the Red Sea state every year were not responding to any political persecution, but seeking economic opportunities overseas.
Eritrea, with its population of 5 million creates one of the highest numbers of refugees of any country in the world not at war, according to the United Nations.
Unemployment is high and poverty rife. Mandatory service in the armed forces is a source of great discontent among young people wary of continuing border clashes with Ethiopia.
Eritrea is also the subject of United Nations sanctions imposed over allegations Asmara has supported Islamist rebel groups in Somalia. Asmara denies the accusation.
"Ninety-five percent of the population do national service very willingly, with pride," Yemane Ghebremeskel, director of the Eritrean president`s office, told Reuters.
"National service has been extended because of the situation of the war (with Ethiopia) and there are some young people who feel they cannot serve longer. That happens (but) we are talking about a very small minority of people," Yemane said.
Passports are not commonly issued to young Eritreans. The United Nations say tens of thousands flee Eritrea in secret every year, often crossing the porous border with Sudan and attempting the dangerous trek towards southern Europe.
But Eritrea, which has traditionally shunned external aid and been suspicious of organizations wanting to operate there, disputes aid agency statistics on refugee levels, saying they are exaggerations designed to tarnish the nation`s image.
MIGRATION DISCOURAGED
"People move for economic reasons and that is a global phenomenon. People are not leaving because the political reality here is not conducive for them to lead their normal lives," Yemane said.
"Remember many people have come back to Eritrea too. From Ethiopia and Sudan alone in the last 20 years repatriation exceeds 200,000 people. It is not a one-way street."
But some of Eritrea`s star athletes have recently used the opportunity of international competition to flee the country.
In December, 12 footballers playing for the national side disappeared in Kenya after competing in a regional tournament. They later presented themselves at the Nairobi offices of the United Nations High Commission for Refugees.
In 2008 six Eritrean athletes competing in the World Cross Country Championships in Scotland walked into a local police station and asked for asylum, saying they feared being forced back into national service when they returned home.
"These are isolated cases. They happen in many countries. But the larger pictures shows the more people are returning," Yemane said.
"Every citizen has a right to come back but it is an offence to leave a country without permission ... there would be a proportionate penalty. You are not going to exempt them because he or she is a football player," he said.
In a Reuters interview in October, President Isaias Afwerki said that most fleeing the country were "going for a picnic" and they will be welcomed back home when they come.
(Editing by Helen Nyambura-Mwaura and Ralph Boulton)
© 2010 Reuters Limited
Footballers do a runner to avoid the flight home; Eritrea
Tristan McConnell Nairobi
The Times
December 16, 2009
The entire Eritrea national football team absconded from their hotel in Nairobi after being knocked out of a tournament, becoming the latest of their compatriots to flee their homeland.
The Red Sea Boys, as they are known, suffered a 4-0 defeat against Tanzania on Sunday in the quarter-final of the Cecafa Senior Challenge Cup. With Eritrea`s dream of becoming champions over, the players seem to have set off in pursuit of their own dreams. The team aircraft is said to have arrived in the Eritrean capital, Asmara, with only the coach and one official on board.
"Some 12 players did not make it to the airport," said Nicholas Musonye, general secretary of the Council of East and Central Africa Football Associations (Cecafa), the organisers of the tournament held in Kenya. "We didn`t expect them to have other ideas because on the field of play they were very good, very entertaining. They were one of the best teams in the competition, despite losing 4-0."
Mr Musonye said that an investigation had begun, adding: "According to law they are illegal immigrants."
It is not the first time that Eritrean footballers have made off abroad. When the tournament was held in Dar es Salaam, Tanzania, three years ago eight players vanished. Players have also disappeared at club level. In 2006 four members of the Asmara team Red Sea FC, Eritrea`s top side, escaped their government minders after an African Champions League match in Kenya.
"Playing football is one of the few ways young Eritreans can find a legal way out of military service," said Steve Bloomfield, author of a forthcoming book, Africa United, who recently returned from a trip to Eritrea and was watching last week`s tournament in Nairobi. "When they come to the end of their careers Eritrean footballers worry they will be sent back to military camp. Instead, many try to flee the country."
The high rate of defections prompted the Eritrean Government to introduce a rule in 2007 that all travelling athletes must deposit £4,120, and that they must be shadowed by minders at all times.
The dozen players are not alone in seeking to flee their repressive homeland.
According to the UN, nearly 63,000 Eritreans fled their country last year, chipping away at a population of about five million, and making Eritrea the world`s second-biggest source of asylum seekers after Zimbabwe.
President Afwerki of Eritrea has denounced the figures as propaganda. But many blame the despotic nature of his one-party rule for the flood of exiles. The 63-year-old rebel-leader-turned dictator won power in 1993 after a three decade war of independence against Ethiopia.
This year an investigation by Human Rights Watch found that the Eritrean Government had issued a shoot-to-kill order against anyone attempting to flee across the border. Arbitrary arrests, torture and disappearances are common.
Eritrea: only the coach and an official flew home from Kenya
© 2009 Times Newspapers Limited. All rights reserved
Out of Africa, it`s a whole new ball game
Jai Bednall
AdelaideNow
April 10, 2011

The Eritrean players who settled in Adelaide after defecting in 2009. Source: adelaidenow
The makeshift team uniforms they wore after fleeing a totalitarian regime in their homeland have been traded for the shiny new strips of their new South Australian clubs.
And the Bible verses they pinned to their walls to guide them through the most harrowing experience of their lives have been joined by framed junior coaching certificates.
"We are very happy," Gebrihiwet said.
"Everyone we have met has done everything to help us.
The players created international headlines in December, 2009, when they disappeared from a tournament in Kenya.
They spent eight months hidden inside a refugee camp fearing retribution for deserting their homeland before being offered a lifeline by Australian immigration officials.
After initially being trained by the Football Federation of South Australia, they have now been divided up among four Super League teams - Raiders, Adelaide Blue Eagles, Croydon and Western Strikers.
All but three of the players have made their first-team debuts in the opening rounds of the season and have been more than impressive.
"The coaches are happy, they have said everyone is doing well," Gebrihiwet said.
"Our plan is to play A-League so we have to do well for our clubs.
"They have done a lot for us so we have to score goals and do everything to make them happy."
Gebrihiwet, Nevi Gebremeskel, Ermias Maekele and Ambesager Sium were signed by Western Strikers - who were looking for players to shore up their defence and midfield.
The club has moved the quartet into a house in Findon and found them jobs with switchboard manufacturer LAI Industries at Hendon.
Maekele has earned his driver`s licence, giving the players much-needed transport to work and training, while Sium has even become an avid Aussie Rules fan.
"At first we didn`t like that sport because it was too much like rugby," Sium said.
As for life in their homeland, the team receives regular contact from their relatives by telephone.
The defectors allegedly blame the government for neglecting to perform routine maintenance pointing out that the lack of such technical issues caused the death of their colleagues. Last August, the holder of the Eritrean flag to the London Olympics never returned home and his defection is said to have annoyed authorities in Asmara, the country`s capital.
© Copyright 2012 Sudan Tribune - All rights reserved.